FitBit Zip Wireless Activity Tracker Review 
In the market for high-quality and reliable wearable techs, one of the best options that can be taken into consideration would be FitBit Zip Wireless Activity Tracker. You can have it linked to a computer or smartphone, which will make it easy for you to monitor the progress of your workout, letting you know if you should go farther to achieve your health and fitness goals. It can provide an accurate measurement of the distance traveled, steps taken, and calories burned, among others. It has a clear LED display to provide you with easy-to-understand readouts. It also comes with a battery that can be replaced, providing you with the assurance that it can be used for an extended period.

Product Features
This activity tracker is enclosed in a sleeve made from silicone, which makes it not only stylish, but also durable
It weighs just 8 grams, has a height of 1.1 inches and width of 1.4 inches. At such size, there is no doubt that it can prove to be excellent when it comes to portability.
With its pebble shape and thickness of just 1.3 inch, you can have it easily placedinside your pocket.
3-volt lithium ion battery that can provide the power that is needed by the activity tracker for up to 6 months.
It also has Bluetooth wireless syncing, which will make it effortless to transfer data from the activity tracker to your smartphone or computer
Water-resistant construction allows FitBit Zip Wireless Activity Tracker to be useful even outdoors without the fear that its functionality will be affected when it gets wet.

Plus Points
Affordable Price: If there is one thing that hinders many people from having an activity tracker, it would be because they are blinded by the belief that this is going to be expensive. In the case of FitBit Zip Wireless Activity Tracker, on the other hand, you will be able to enjoy an economical product with features that are comparable to the more expensive options that are available in the market.
Water-Resistant: If you need an activity tracker that ca be used when swimming or even when you are in the shower, this is going to be an excellent pick as well.
Lightweight Construction: The size and weight of FitBit Zip Wireless Activity Tracker should also be commended. You can have it easily snapped in your pocket. Even with its small size, it is surprising how functional and powerful it can prove to be.
Simple to Use: Unlike in the case of other products, this activity tracker is pretty much effortless to use. With just a tap on the screen, it can start functioning and can provide you with accurate information in no time.
Long Battery Life: While there are some who may not be happy with the fact that it does not come with a rechargeable battery, it can be compensated by having a battery that can last for up to six months.

Things to Consider
Monochrome Display: In a market that is saturated in terms of alternatives, FitBit Zip Wireless Activity Tracker seems a bit outdated because of its non-color display. This may pose serious issues, especially when the activity tracker is used in conditions with low light.
No Sleep Tracker: Many of the activity trackers that are available, even those made from the same manufacturer as this model, can track sleep patterns. This, however, does not sport the said feature and does not also have vibrating alarm.
Non–rechargeable battery: While its battery has long life, some were not happy that it cannot be recharged, and hence, you will need to have a replacement after a certain period.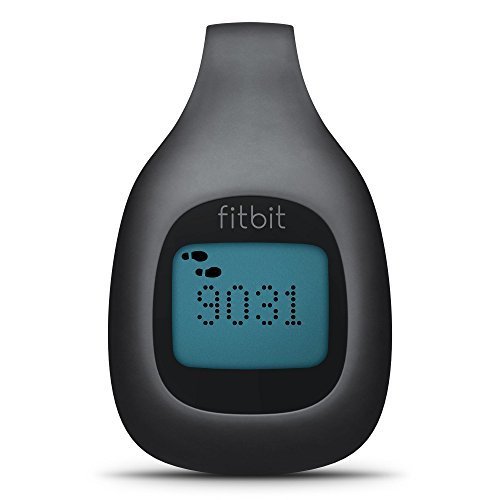 Product Summary
The FitBit Zip Wireless Activity Tracker is a simple watch that be an excellent choice for those who are looking for an entry level pick within the product category. It can monitor physical activities and provide accurate information in its tiny display. It has a lightweight design and made from comfortable materials. It comes with an affordable price tag. Many were also happy that it is water-resistant. Nonetheless, there are also some drawbacks, such as not having a rechargeable battery and having a monochrome display, which makes it look obsolete compared to other choices. Click here to buy this product!

Recommended Products For Fitness Trackers