For most women, lower body is a critical zone they struggle the most with. Due to the physiology of women's body, the fairer sex has a problem with storing fat in hips, abdomen, buttocks and thighs, and in most cases, this is the zone of your body you'll have the most difficulty with in the weight loss process.
The key to having a slim, well-defined lower body is to work the groups of muscles in your thighs, calves, butt and hips much more than any other. The way to achieve this is either by doing workouts designed to burn fat from these areas, or to use a gym device created to target those specific groups of muscles. If you want to work out from home, the best choice for working out lower body is to buy a stepper. This home gym device can replace stepping machines or elliptical bikes, and, even though much smaller in size, it will work as efficiently as professional gym equipment.
This compact twister stepper is designed specifically to work your lower body to the maximum, and the best part about it (besides the fact the combination of white and pink makes it really pretty) is that you can literally place it anywhere you want and workout whenever you find the time. For example, if you spend a lot of time sitting in front the computer, you can put Sunny Health and Fitness Adjustable Twist Stepper under your desk and work your legs while you work. With conventional gym machines, multitasking is never an option, and this compact twister stepper makes it easy to coordinate your activities and do much more in less time.
Since it's focused only on your lower body, this twister stepper has no handle or resistance bands that could give you a total body workout. But, in case you feel up for a challenge and want to use the time you spend stepping for defining your upper body too, just grab a pair of dumbbells and hop on Sunny Health and Fitness Adjustable Twist Stepper. This modified exercise will allow you to simultaneously work all critical zones at once, without having to change your routine.
When it comes to design and quality, Sunny Health and Fitness Adjustable Twist Stepper is a winner all around. The construction is made from heavy-duty steel, coated with a scratch-resistant layer of white paint, combined with lovely pink footplates and anti-slip caps. The footplates are oversized, so you don't have to worry they won't fit you, and covered with non-slip rubber that will provide you with stability when standing up and working out. The anti-slip caps prevent the stepper from shifting around and scraping your floors, and they really help make you feel safe- the last thing you'd want is the stepper wobbling around when you do the side step, trust me.
The Sunny Health and Fitness Adjustable Twist Stepper also has a small activity tracker with an LCD screen that tracks and shows the number of steps and reps, calories you've burned in one session, and the time spend on twister stepper. This is great if you count calories, or just want to keep track of your advancement- seeing the number of steps per session grow each time you use it will be a powerful motivator in your weight loss journey.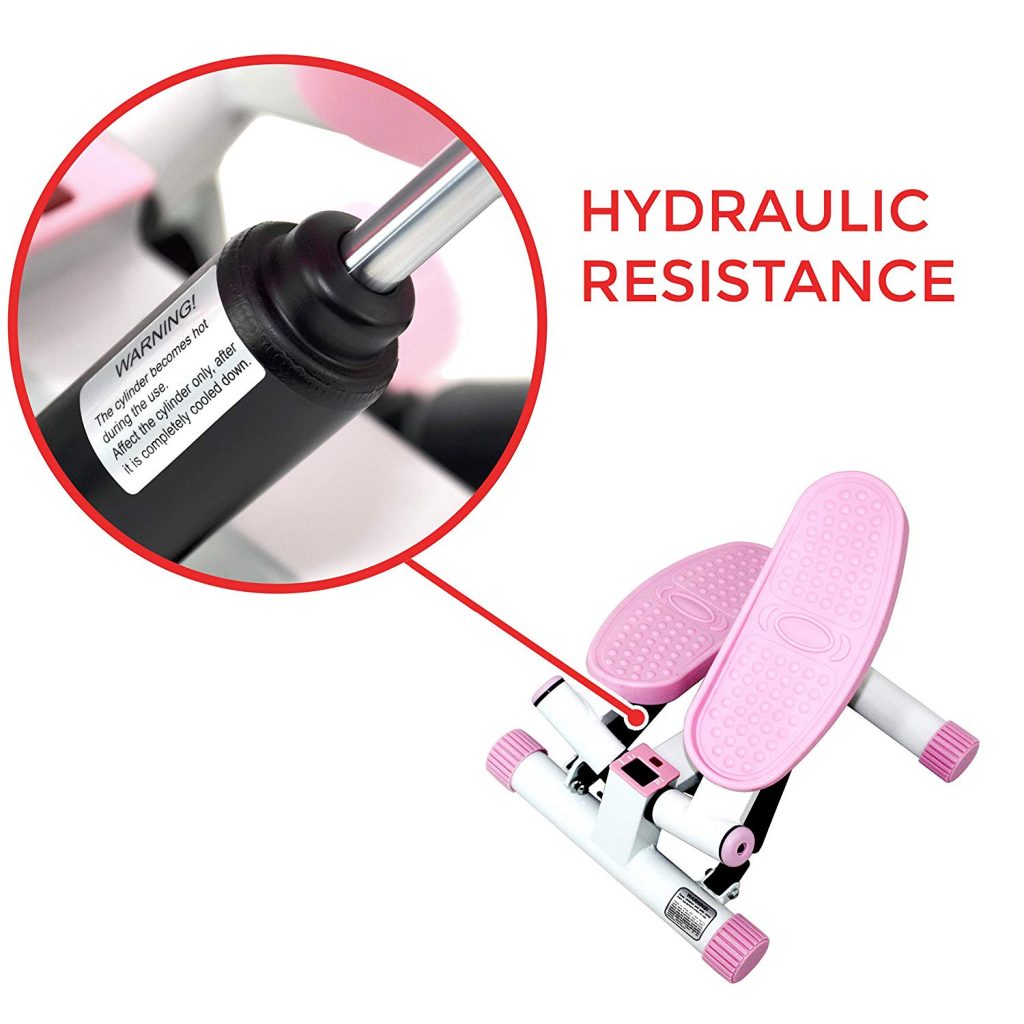 Although we can't deny that Sunny Health and Fitness Adjustable Twist Stepper is a great gym device that will help you define your hips, butt, and legs, in order to truly have amazing results, you'll have to combine working out on this handy compact stepper with a well-balanced and healthy nutrition, as well as other forms of physical activity. When used as a supplemental source of exercise, rather than the only source, Sunny Health and Fitness Adjustable Twist Stepper truly shines- it helps you burn fat from critical zones faster and efficiently, and makes your loss of weight more apparent in the early stages.
Best Steppers For Home Exercise