Breville BJE510XL Ikon Review
Juicers always come in handy when you need that quick sugar rush in the afternoon or an alternative pick-me-up in the morning. But choosing a juicer to replace an old, battered kitchen workhorse can be quite unnerving. When shopping for a juicer always buy one depending on your needs.
The best juicers have plenty of power and use it very efficiently. The pulp should be dry; a sign that the juicer makes the most out of the ingredients it is fed. It should have enough power to deal with the toughest fruits and vegetables and it must also have a chute large enough for most fruits to fit in with little to no cutting required.
And when it comes to power juicers, there aren't many on the market that can compete with the Breville BJE510XL Ikon's in terms of power and efficiency. This unit has been dubbed "the Lexus of power juicers" by many customers because of its distinctive look and extremely powerful 900 watt motor. Let's take a closer look at some of the Breville BJE510XL's features:

Product Details:
Froth separator and juice jug included
Wide spout
Cleaning brush
900-watt motor with speeds of up to 12500 rpm
One year warranty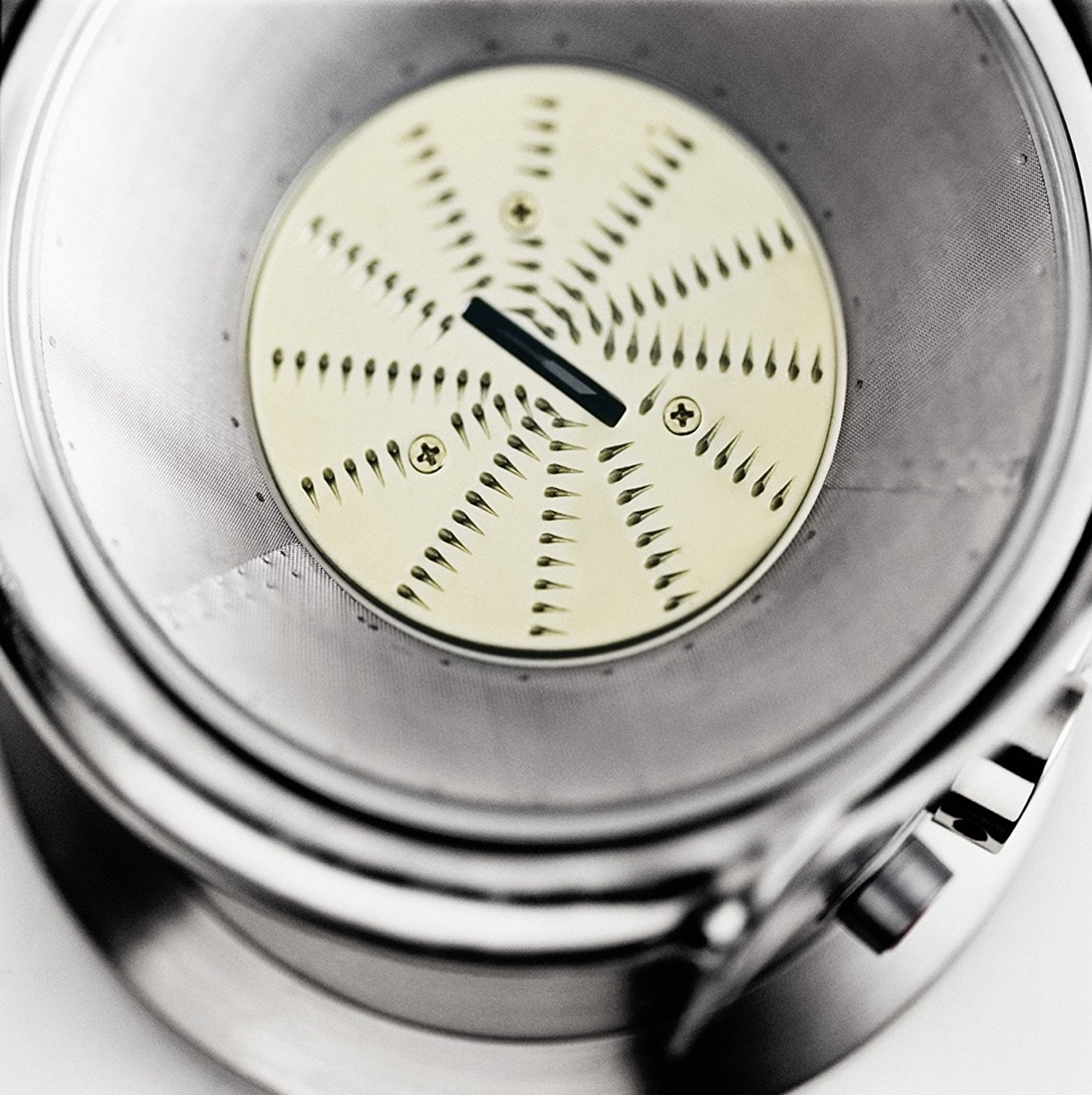 The Good
The Breville BJE510XL Ikon 900-Watt Variable-Speed Juice Extractor comes out of the box looking like it really means business. The chrome and steel finish looks very professional and looks good on any shelf or kitchen counter. It occupies very little space for a juicer but it can do so much to inspire confidence in anybody's kitchen skills.
When you compare this unit with the Hamilton Beach big mouth extractor, you'll notice how much effort was put into the design of this machine. You'll also notice how much more powerful this unit is in comparison. Also, this unit features variable speed settings, something the Hamilton Beach doesn't.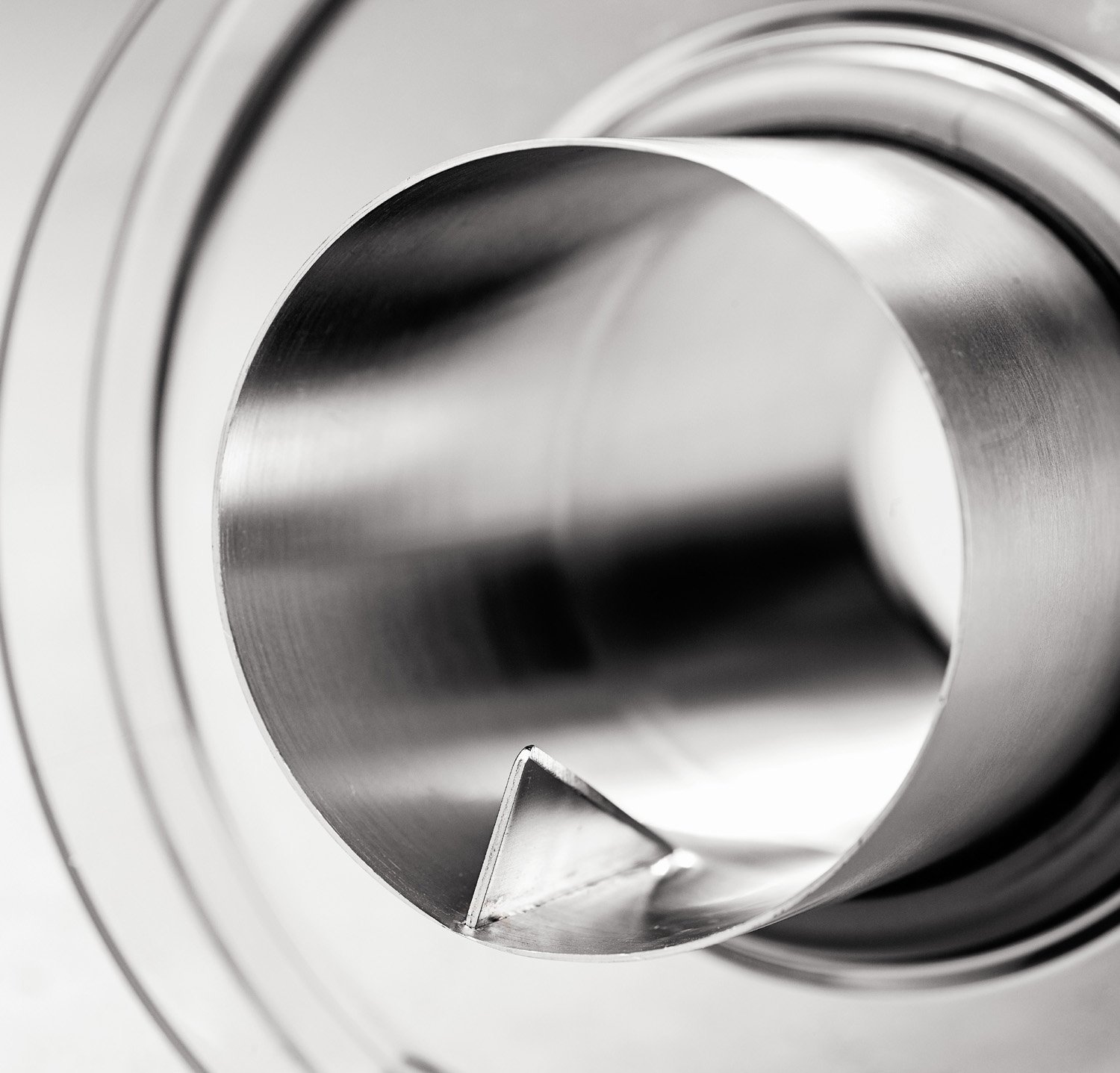 The 900-watt motor does what it says on the tin. Certainly there are more powerful juicers at twice the price of the Breville but this model uses the torque so efficiently, it can juice anything beyond the shadow of a doubt. The pulp is fairly dry when it comes out of its wide, no-spill spout.
Assembly is no problem with the Ikon, all the parts snap quickly in place. The very intelligent design is ready to juice right from the get-go. The 3-inch chute is big enough for most fruits like kiwis, apples, carrots and even tomatoes without slicing.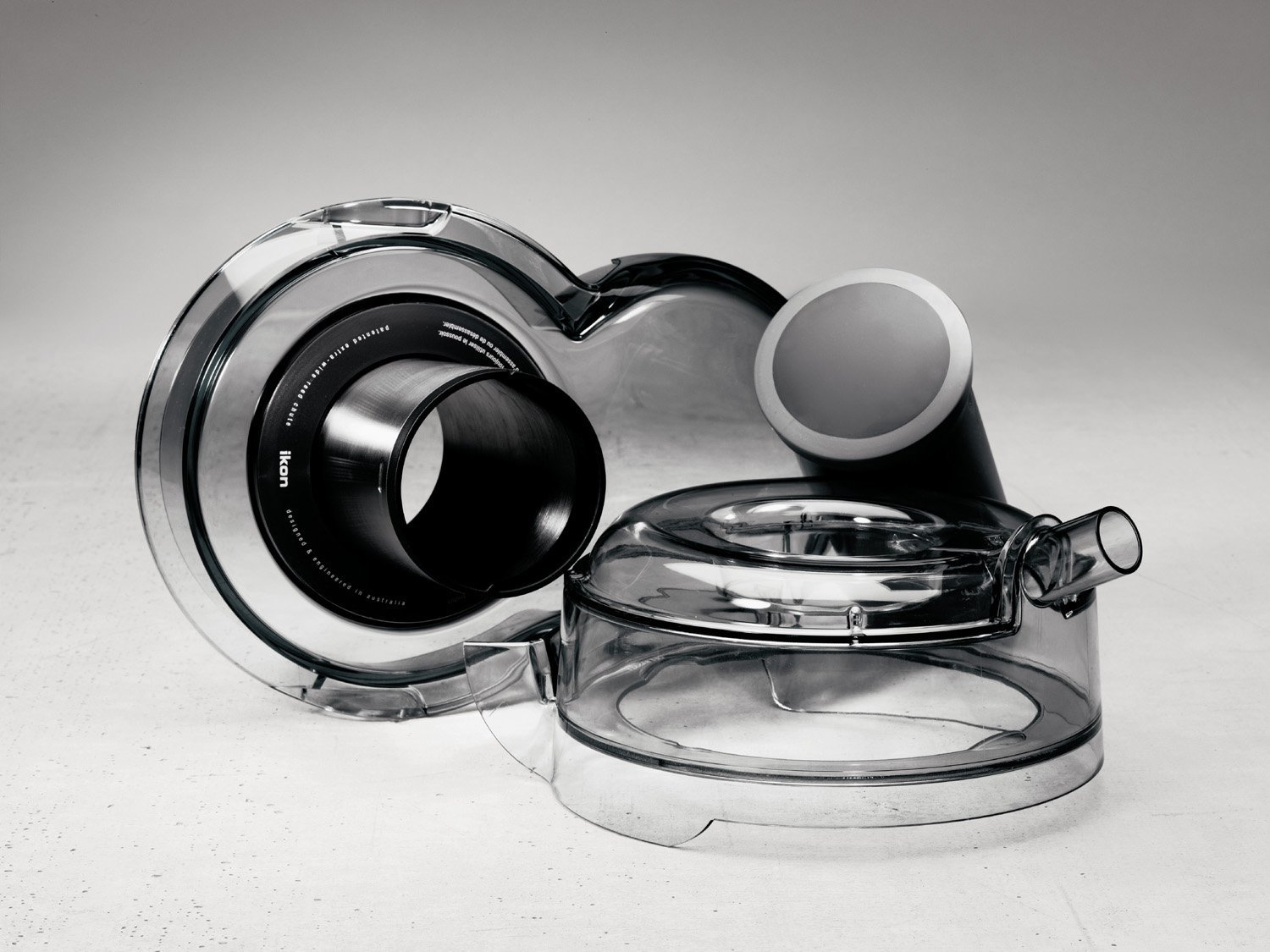 All the Breville Ikon's parts are safe for the top-shelf of the dishwasher. The power base cleans off with a swipe or two of a kitchen towel but it hardly needs any cleaning. In some juicers, the bits of fruits and vegetables shoots off everywhere but with this model, this is not an issue.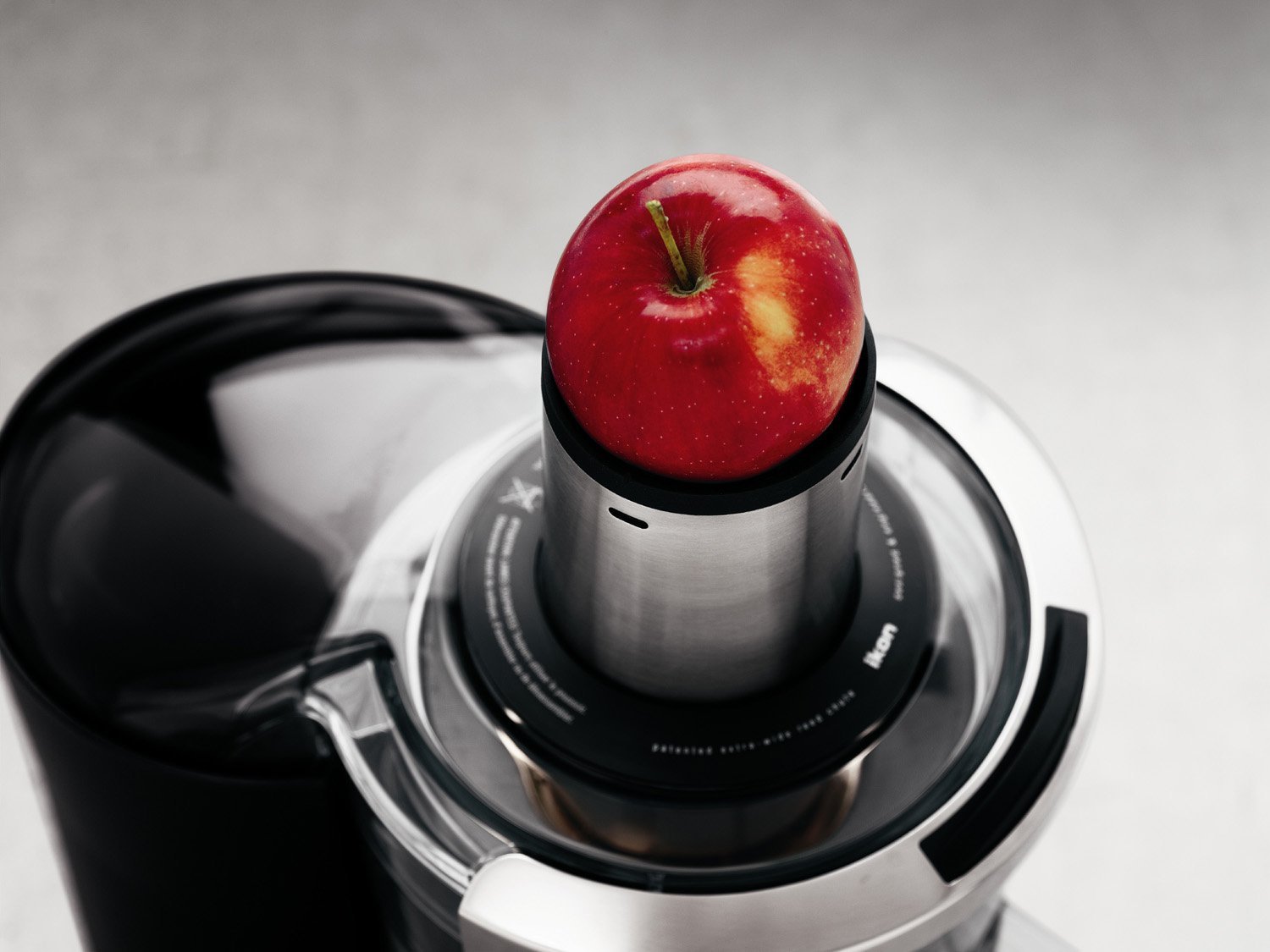 The Bad
The Breville Ikon, for all the wonders of engineering it brings, is not a perfect machine. The juice jug suffers a bit of staining from continued use. But the acrylic finish will not leave any after taste. The solution, according to the company, is to clean the pulp catcher shortly after use.
On the other hand, the blades do get a bit dull after continued, everyday use. The one-year warranty should cover the blades if they do get too dull. Nonetheless, the Breville Ikon offers consistent results each and every time.
Some users also complained that the motor was too loud, however, it is to be expected form a unit this powerful. But these are niggling doubts, as the Breville is not louder than similar products in its range.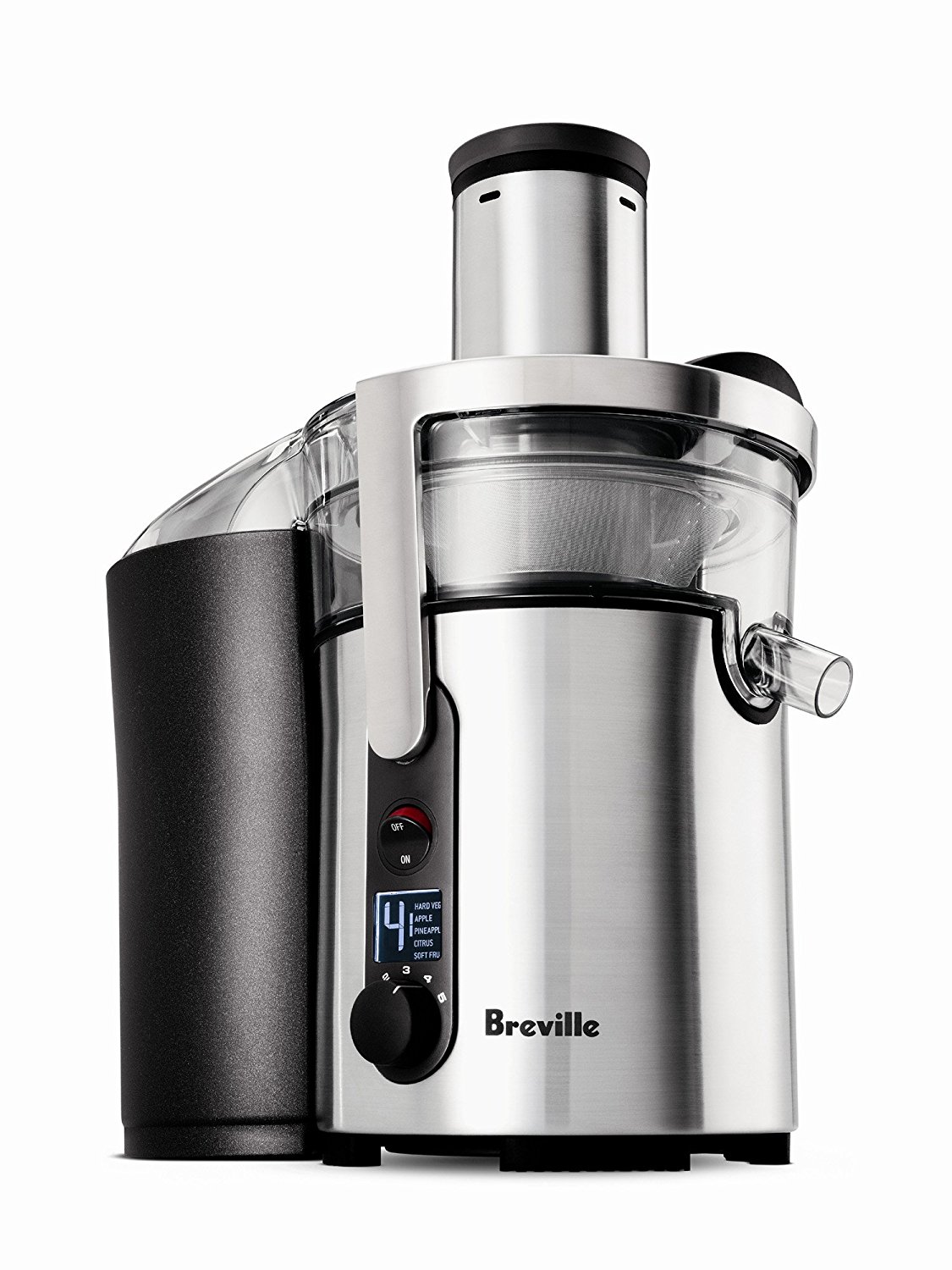 Our Verdict
Overall, the Breville BJE510XL Ikon is a juicer that represents a solid investment. It is easy to assemble, very user-friendly and cleaning it up is a breeze. It is definitely something you would want to use every single day.
With the Breville, everyone from fitness buffs, health nuts to couch potatoes can enjoy a glass of fresh juice, every day.
So, if you're looking for an efficient and powerful juicing machine that will allow you to enjoy your favorite fruit and vegetables juices in seconds, then you should definitely give the Breville BJE510XL a second look. Click here to buy this now!
Recommended Products For Juice Extractors