The Universal Decline Bench Review
The Universal Decline Bench is a perfect product if you want to hit your core muscles from a range of angles. It has a compact, space saving design which allows it to easily slot into most home workout areas along with padded foam rollers which keep your feet securely locked in position as you exercise.
Product Features:
8 inch padded foam rollers which comfortably and safely lock your feet in place.
2 decline positions which allow you to target your muscles from a range of different angles.
2 year limited warranty which entitles you to a free replacement or repair if anything goes wrong with the bench during this period.
Bench size = 17 inches by 23 inches by 45 inches.
Bench weight = 16.3lbs.
Maximum weight capacity =200lbs.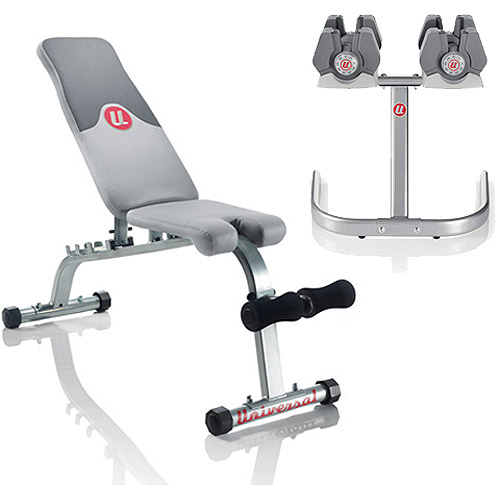 Good Points:
1) Low Price:One of the best things about the Universal Decline Bench is the price. Most budget benches cost $100 or more but this one costs just over $50. However, despite the low price it's still a quality piece of equipment that's both sturdy, comfortable and holds you securely in position while you work your core.
2) Comfortable:As mentioned above, another plus point of the Universal Decline Bench is that it's very comfortable to workout on. The roller pads are well cushioned and rest nicely against your legs while the bench itself has just the right amount of padding to support your torso.
3) Easy To Store:If you've only got a small home workout area and want to make the most of the space you have available, you'll love the Universal Decline Bench's folding feature. You simply pull out a pin and then you can fold it flat and store it anywhere you want. It's so compact when folded flat that it will even fit in a closet or under your bed.
4) Lightweight:One final benefit of the Universal Decline Bench is that it's incredibly light. In total, it weighs just 16.3lbs which is over four times lighter than most competing benches. This makes it a breeze to move about and is a great feature if you're not going to be keeping the bench in a fixed location.
Bad Points:
1) Short: One drawback of the Universal Decline Bench is that it's pretty short and isn't suitable for taller people. If you're less than 6 feet tall, you should be able to use this bench without any problems. However, if you're taller than this, you may find the bench uncomfortable to use and it may not be suitable for you.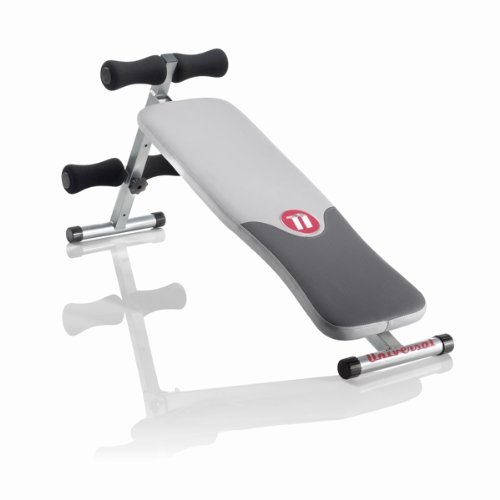 Summary:
If you want to do some specific core work, the Universal Decline Bench is a top choice which allows you to hit your abdominal muscles from a range of angles. It's very comfortable, won't break the bank and the compact, lightweight design makes it perfect for quick and easy storage. If you're 6′ or over, you will want to invest in a larger bench but if you're below this height, the Universal Decline Bench is an excellent investment which you're sure to love. Click here to Buy The Universal Decline Bench
Recommended Products For Benches And Gym Equipment