Electric Griddles Can Cook Up Healthy Fare
Electric griddles are accessories which provide benefits you may not be aware of. The hot plate of an electric griddle lets you cook food in their own juices – with no added fat from frying or greasing a grill.
By cooking foods on a griddle, you're eliminating the chances of burning your food as you can on a charcoal grill when barbequing and the griddle handily retains most of the nutrients in the foods.
Cook vegetables, sausages, chicken, fish and other seafood and even fresh fruits on a griddle to enjoy light and healthy fare in a way that locks in taste and lets you cook food to the perfect temperature.
When choosing an electric griddle, keep in mind how many you'll be cooking for and if you'll be cooking meats, veggies and fruits at the same time. A smaller griddle may be suitable if you're cooking for one or two, but think about increasing the size if you have a large family or entertain a great deal.
The electric griddle is heated by an electrical unit beneath the grill. The grill is removable for easy cleanup and you can also safely place the grill on a tabletop to let family and guests serve themselves without messing up more plates and bowls.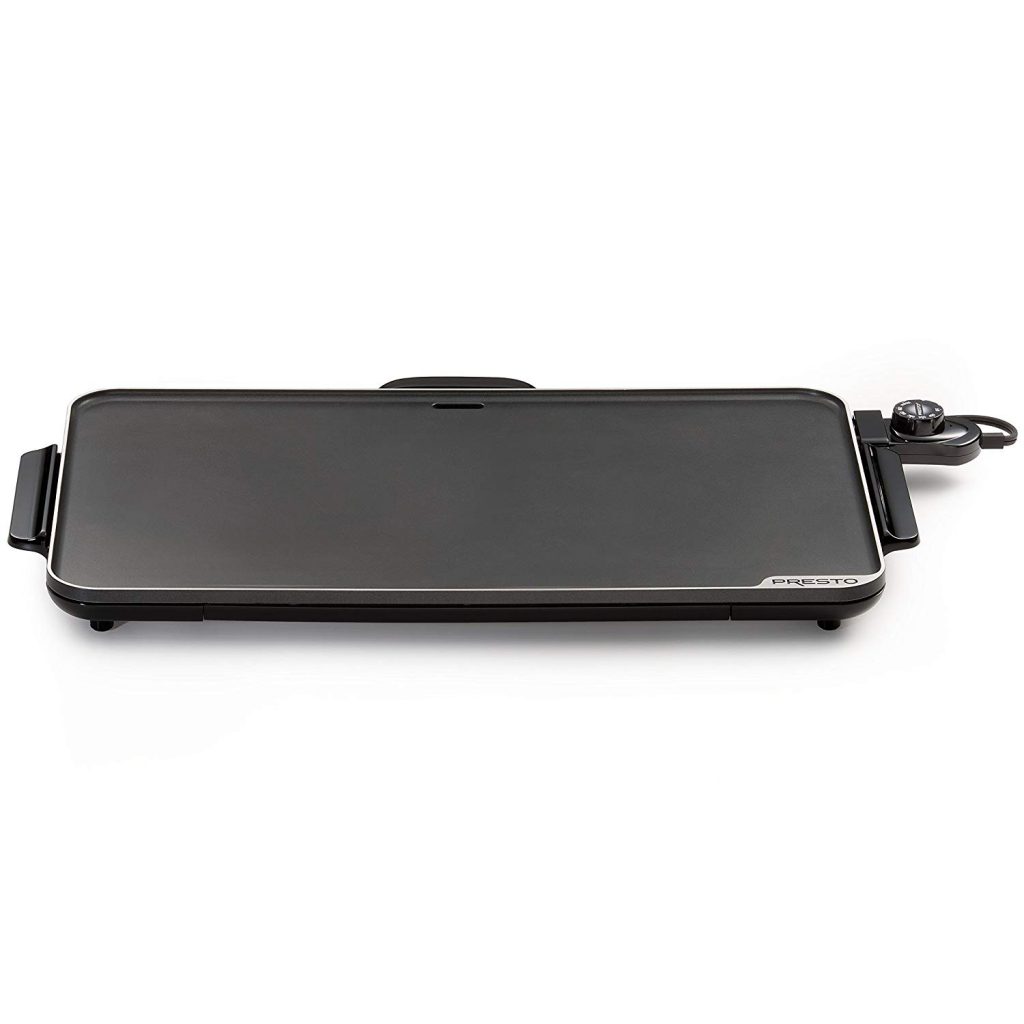 Choose an electric griddle made from thick cast aluminum if possible and be sure the surface is large enough for the amount of food you want to cook on it. A removable griddle (and fat-collecting trench) helps with cleanup issues and some models let you place it in the dishwasher.
Most models have an adjustable thermostat so you can adjust the cooking temperature – and come with either 2100 to 2400 Watts of power. Some of the best-selling electric griddle models have non-stick finishes so you need to add very little oil when cooking.
There are also griddles which sport smooth surfaces or those which leave grill marks on the food, if desired. You can cook a wide array of foods on an indoor griddle and provide extremely healthy, tender and tasty fare for your family.
You can adjust almost any recipe (except soups and liquid foods) to cook on the griddle. Think outside the box when cooking on a griddle to include items other than the usual hamburgers, hot dogs and pancakes.
Look at the wide selection of electric griddles offered online and make a choice based on your likes and needs. You'll find electric griddles in all shapes and sizes that should fit any budget and kitchen space.
Best Electronic Griddles Online