TDP Far Infrared Mineral Heat Lamp with a Detachable Head (KS 9800)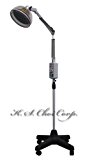 Product Description
*To Ensure You Get The TDP Lamp (KS-9800) that Matches the Product Description, please place your order with K.S. Choi Corporation* PLEASE MAKE SURE KS-9800 IS IMPRINTED ON THE CONTROL PANEL. Other Sellers May Offer Counterfeit Items* *NOTE: Important: Please make sure to wear light clothing when using to prevent burns. DO NOT USE ON BARE SKIN. 1) Please note that the heat lamp will take approximately 15 minutes to warm up. After preheating for 15 minutes, please allow an additional 5 minutes for the temperature to increase. 2) As a general guideline, the distance between the treatment surface and the heating head should be approximately 8-10 inches. Actual positioning of the TDP head may be adjusted to reach the desired level of heat. Do not position the lamp head too close to the skin. 3) A minimum of 40 minutes per treatment session on the targeted area is recommended. Please note that the treatment time for a given session may vary depending on the condition being treated. 4) The heat lamp only provides warmth for therapeutic heat treatments. Please do not expect a higher temperature range as higher temperatures may cause the skin to overheat and burn. Higher temperature ranges will not increase the effectiveness of the treatment. Replaceable/detachable head. *NOTE: WARRANTY INFORMATION 6 Months Limited Warranty on Labor Only, and 3 Months Limited Warranty on Parts. NO warranty on TDP heads. Freight cost is not included in the warranty. Package weight: 21 lbs, package dimension: (23 x 16 x 11) *Please consult with doctor before use.
Price: $119.00
* Be careful items from Seller "CHWarehouse" may be Inauthentic and may be different than what is shown on product photos.* TDP Heat Lamps with large head size as far-infrared heating lamp by the U.S. FDA.
The heat produced by our Infrared heat lamp does not utilize high heating temperature, yet still allows excellent Infrared penetration through the skin.
TDP works with coil heat and a mineral plate (no light bulb needed). The Mineral Plate (6.5″ in diameter, life span of up to 1,500 hrs) emits Far Infrared Rays when heated.
Please wait at least 10-20 minutes for heat. Typical treatment sessions should last a minimum of 40 min per area.
Detachable head – simply unplug the cord that connects the head and the main frame when replacing.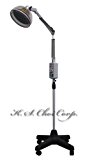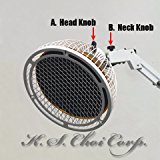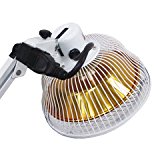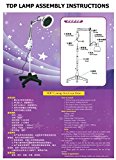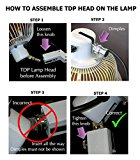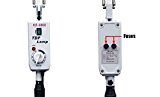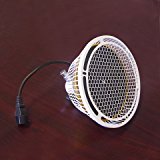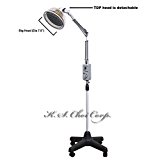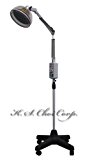 Tips To Help You Learn About Acupuncture
Some maladies require outside help to cure. We look for resources to help when we don't feel right. We visit a doctor; however, many conditions are very difficult to treat, and certain conditions cannot be treated by modern medicine. If you wish to get help that's natural, speak with an acupuncturist.
Acupuncture may take some time to work. The true impact of acupuncture may not appear until multiple sessions have occurred. You might not see the complete range of benefits following the initial session. Thus, give it time for acupuncture to work on your body.
Needles are integral to the practice of acupuncture. You can't avoid needles during acupuncture. They are fundamental to this kind of treatment. You need to be prepared for this before you go to your appointment.
You shouldn't expect to see results immediately. Some people may feel immediate benefits from just one treatment, but others may require multiple treatments to get the full benefit. Therefore, do not worry if you do not experience relief after your first treatment. It will eventually come. Allow some time for the treatments to have an effect.
There are few reasons to fear acupuncture, as the needles used in the procedure are typically painless. Acupuncture needles are not like traditional needles because they are extremely thin. In fact, they are about as thin as a single strand of your own hair. This means that pain will not be an issue for you.
You are going to like the acupuncturist's work, but tipping isn't necessary. Acupuncturists are similar to medical professionals like doctors rather than beauticians. These people are health care professionals, and this is a field that normally does not receive tips.
When scheduling, be selective about the time of your treatment. Don't schedule them close to strenuous activities. Don't place your session smack dab between two other activities either. You might have trouble with trying to get relaxed during your treatment if you do.
If you are hesitant in getting acupuncture done because of pain, know that this procedure does not hurt at all. Unlike the needles used at the doctor's office for shots, which are thick and contain fluid, acupuncture needles are thin and without fluid. You will find that during an acupuncture treatment, you will have a tough time even feeling the thin needles.
Before agreeing to a treatment, have a consultation. The acupuncturist should meet with you first in order to determine the source of your pains. Don't leave anything out. Also, you should tell your acupuncturist the feelings that you have during the day. The more honest you are, the more effective your treatment will be.
Inquire about the length of each session. In most cases, a session runs for about 30 minutes. However, if multiple issues are being dealt with, it may take longer. Do not plan to do anything after your treatments, so you can relax at home.
Acupuncture is great for people that have issues with insomnia. Having an acupuncture treatment once a week will help you get on a good sleep schedule. Your weekly schedule should include your acupuncture treatments. Ask for easy exercises you might be able to do in order to sleep better.
Some patients that get acupuncture deal with more discomfort after getting a few different acupuncture treatments. This is generally referred to as a healing crisis. Your symptoms will eventually start improving. Speak to your acupuncturist about the symptoms getting worse, and talk about the continuation or modification of your treatment.
Expect to see some small red dots and even some minor bruising on your skin. Such things are typical after sessions. You should not be worried or concerned. The marks will go away soon, and you will feel much better having had it done.
Are you having back pain, migraine, or suffering from arthritis? Have you had no luck with standard methods of pain relief? You may want to consider acupuncture. Using the energy in your own body through the healing powers of acupuncture is another option instead of the usual medical treatment.
If you have a problem with a variety of health problems, you may have some luck if you turn to acupuncture to help you out. It is obvious by the fact that you are reading this article that acupuncture is of interest to you. Locate someone to help you that you trust and can have a good session with.