Sole E35 Elliptical Trainer vs Sole E95 Elliptical Trainer
Looking to get into shape? Then spring for the Sole E35 Elliptical Trainer that has earned itself a "best buy" rating by leading consumer websites and magazines. Or try the Sole E95 Elliptical Trainer that is the top model in Sole's elliptical trainer category. Whichever one you choose, you'll be on your way to better fitness thanks to the intense workout programs. The good news is that you'll be enjoying yourself in comfort and style as both elliptical trainers have high-tech technology, such as integrated sound systems, oversized foot pedals and fancy LCD consoles 
Sole E35 Elliptical Trainer Specifications:
Average Price: $1199.99
Product Dimensions: 68 x 34 x 22.8 inches; 200 pounds
Weight Capacity: 375 pounds
Warranty: Lifetime on frame; 5 years on parts and electronics; 2 years on labor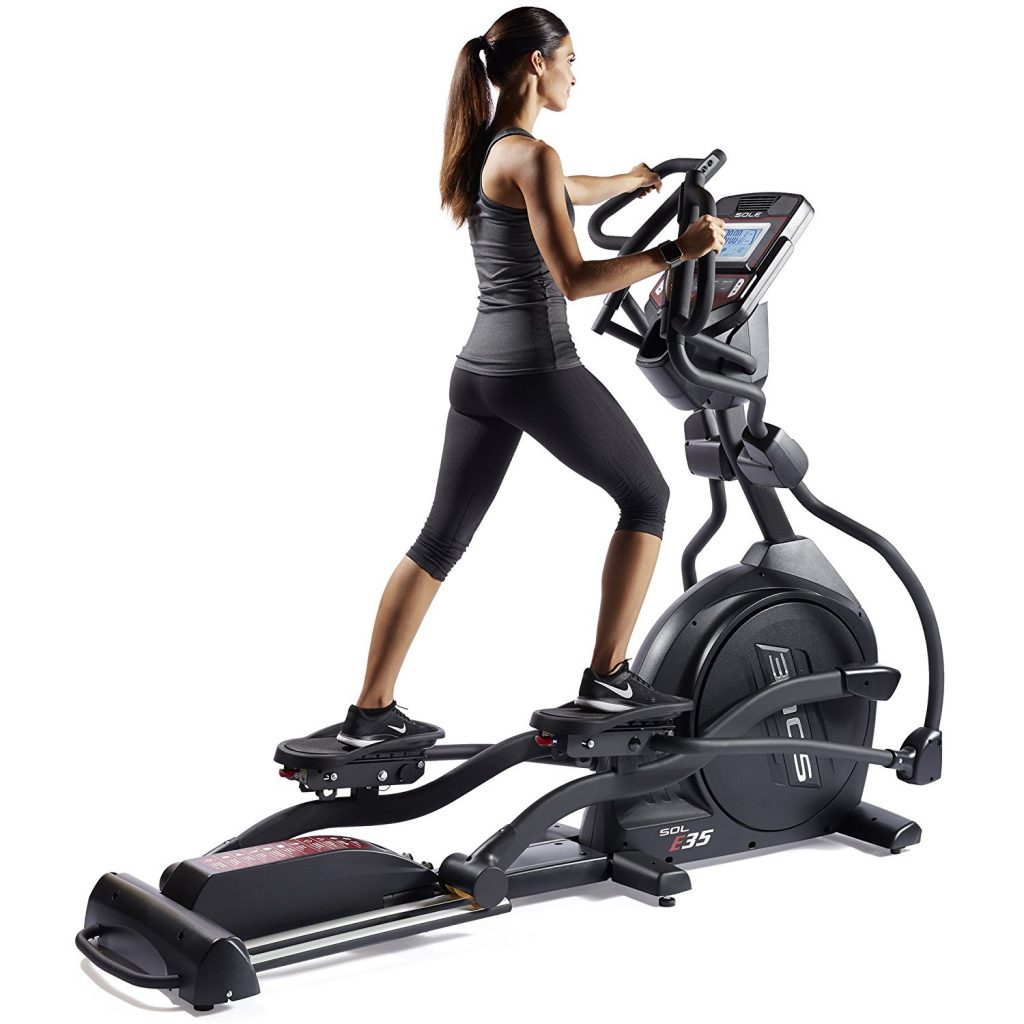 Sole E95 Elliptical Trainer Specifications:
Average Price: $1599.99
Product Dimensions: 66 x 33 x 23 inches; 215 pounds
Weight Capacity: 400 pounds
Warranty: Lifetime on frame; 5 years on parts and electronics; 2 years on labo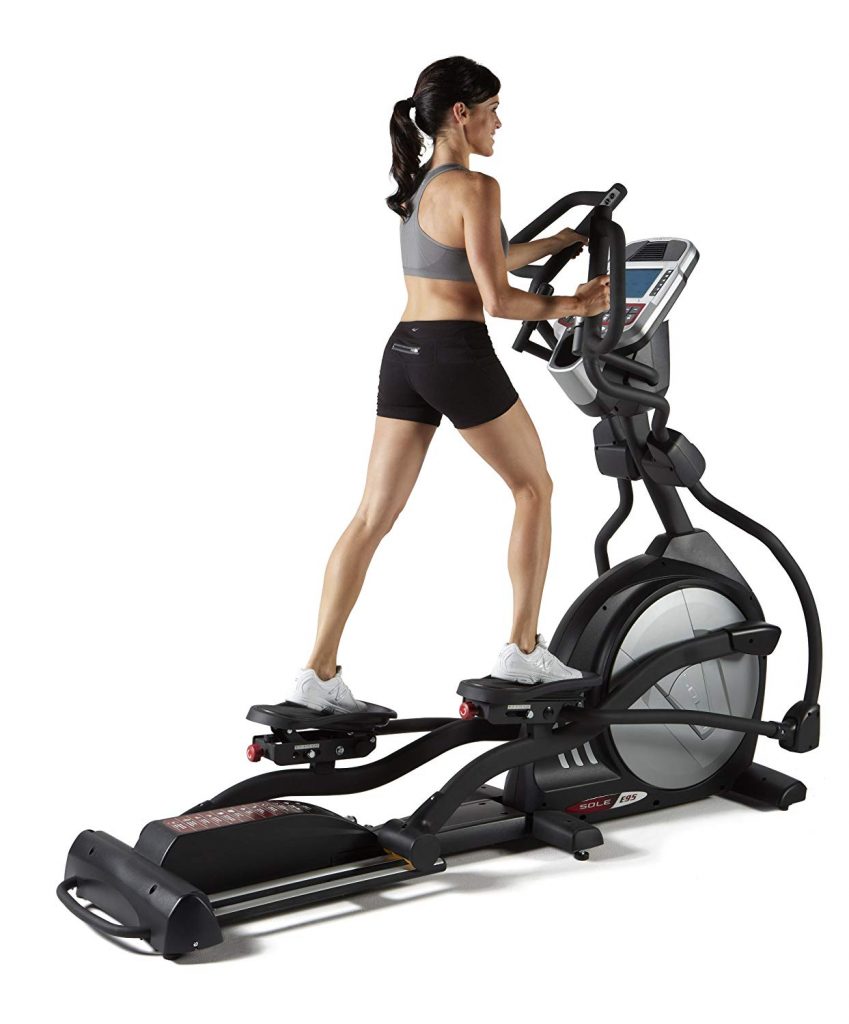 Sole E35 and Sole E95 Elliptical Trainer Features: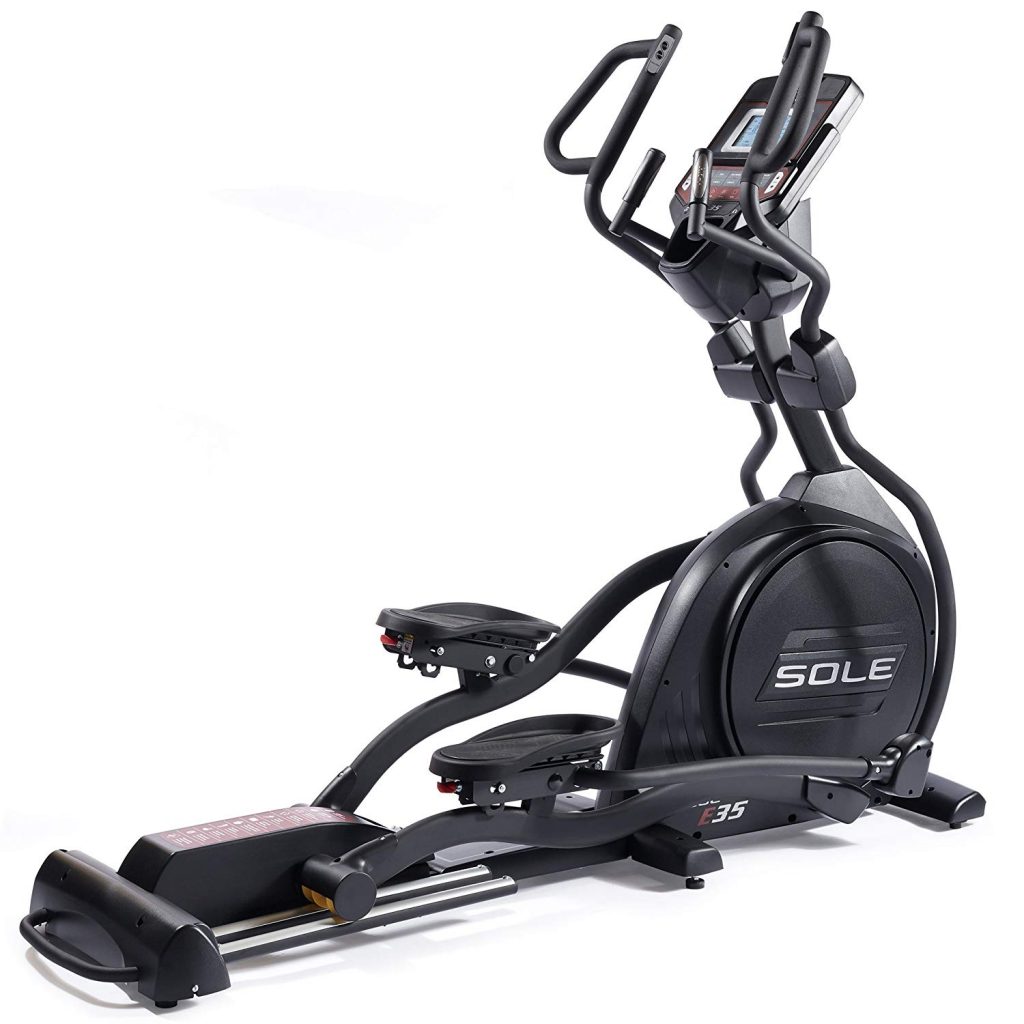 Smooth Performance
If you don't have a comfortable elliptical to exercise on, your sessions will be cut short and you'll be left feeling exhausted. Fortunately, the Sole E35 takes comfort to a new level. With a 25-pound flywheel, you can expect smooth performance from the start of your workout to the finish. The smooth operation is made better with a whisper-quiet drive system, making it possible to workout anywhere without disrupting others. 

The Sole E95 has even smoother performance thanks to its 30-pound flywheel. Like the Sole E35, the E95 has a whisper-quiet drive system that makes the machine silent when in use. The large, custom-designed pedals also add to the performance of the machine so you're able to get good control and stability during workouts.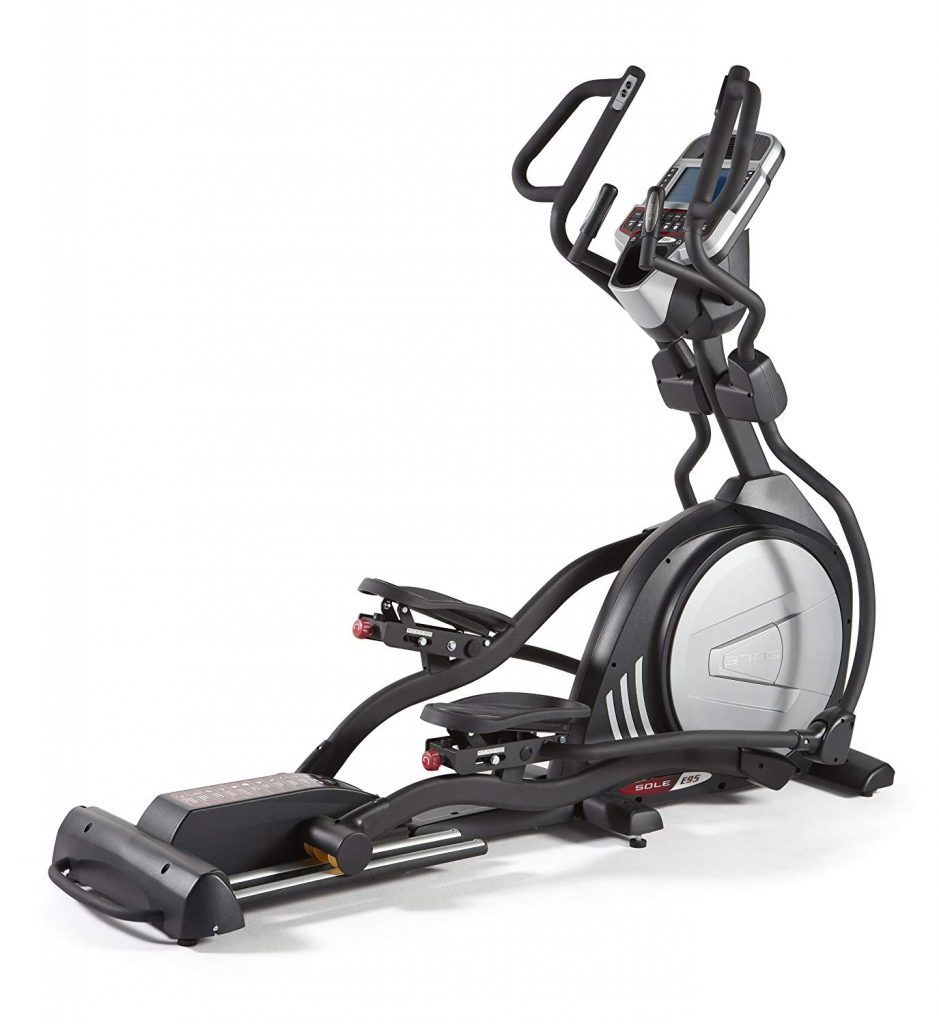 Diverse Workouts
It's hard to get a varied workout from one piece of equipment, but the Sole E35 Elliptical Trainer will deliver a full-body workout, cardio included. There is a power incline feature that boosts resistance by raising the ramp to the position of your choice. With a level plane of 30 degrees, you can easily target specific areas of the body. If you enjoy working out to specific programs, you'll have six programs to choose from as well as two custom programs. All the while, a heart rate zone graph will flash on the LCD screen, ensuring that you're keeping within your target zone. 

Since the Sole E95 Elliptical costs slightly more, it offers even more diversity in terms of workouts. The level plane is fully adjustable up to 40 degrees instead of 30, and the incline works the same way as the Sole E35 by pressing the button until the desired incline is reached. The E95 includes six automatic programs, two custom programs and a wireless chest strap for keeping track of your heart rate. You can use the heart rate zone graphs to see where your heart rate is, and the chest strap boasts a 99.9 percent accuracy rating.
Comfort and Ergonomics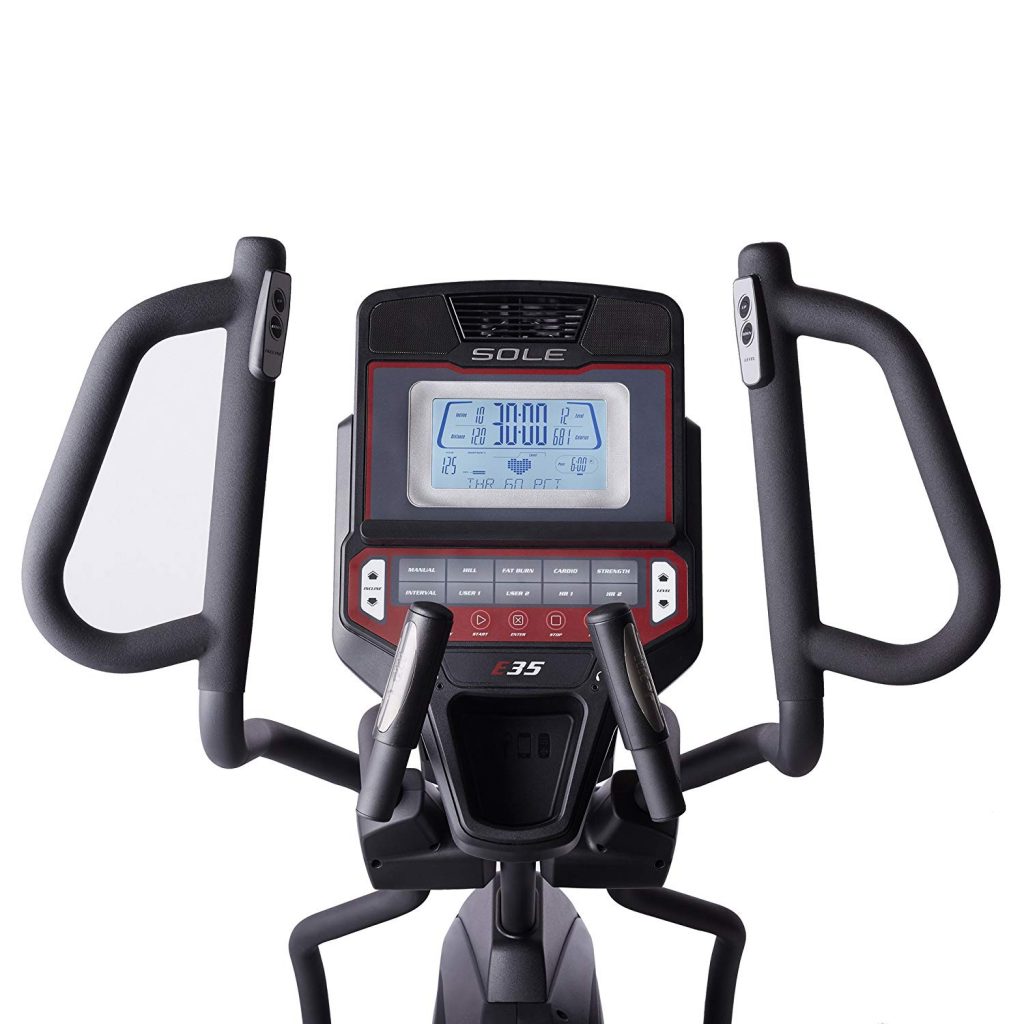 The Sole E35 is built with people of all ages and abilities in mind. It has custom-designed foot pedals that feature a two-degree inward slope for reducing stress on the ankles and knees. The foot pedals are also adjustable so you can find the perfect fit for your body frame. Other comfort features include stationary handlebars with pulse sensors, adjustable incline and resistance built into the arms, built-in cooling fans and a water bottle holder. For your enjoyment, the Sole E35 also comes with an integrated speaker system and vibrant 6.5-inch LCD screen that tracks all the essentials.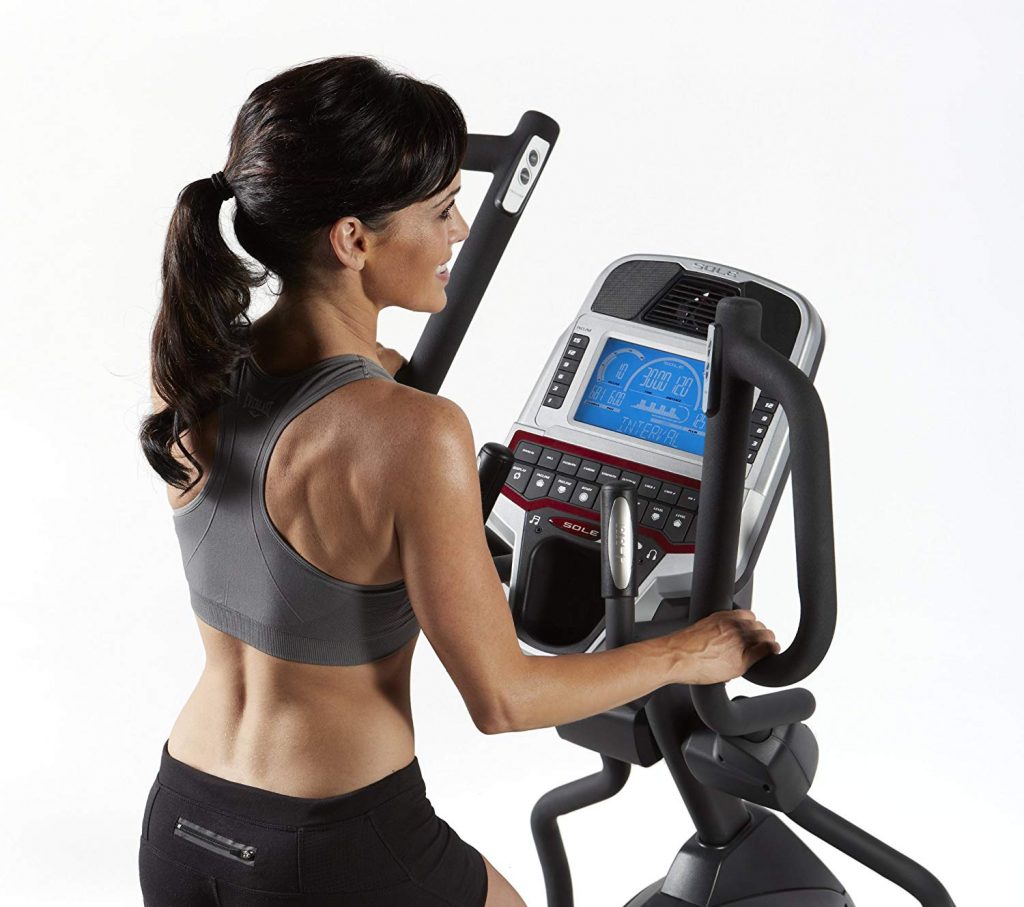 You can expect the same brilliance with the Sole E95. Yet because of the higher price, the ergonomic features on this elliptical are bigger and better. The same oversized foot pedals are included with this model and were designed in collaboration with physical and sports therapists. Yet specific to the E95 is the "worm drive" dial mechanism that allows you to set the pedal angle using ten different choices. Where the E35 has 16 resistance levels, the E95 has 20. It also includes a commercial 9-inch blue LCD screen that tracks the time, distance and resistance. You'll also enjoy the built-in speaker system, cooling fans, water bottle holder and pulse grips on the handlebars. 
How Does the Sole E35 and the Sole E95 Compare?
When comparing both elliptical trainers side-by-side, you definitely get more features with the Sole E95. It has a large, commercial-grade LCD screen, more levels of resistance, a 30-pound flywheel, the innovative "worm drive" system and is able to support more weight. Of course, you pay for these features, so it's up to you to determine if it's worth spending the extra money for these amenities.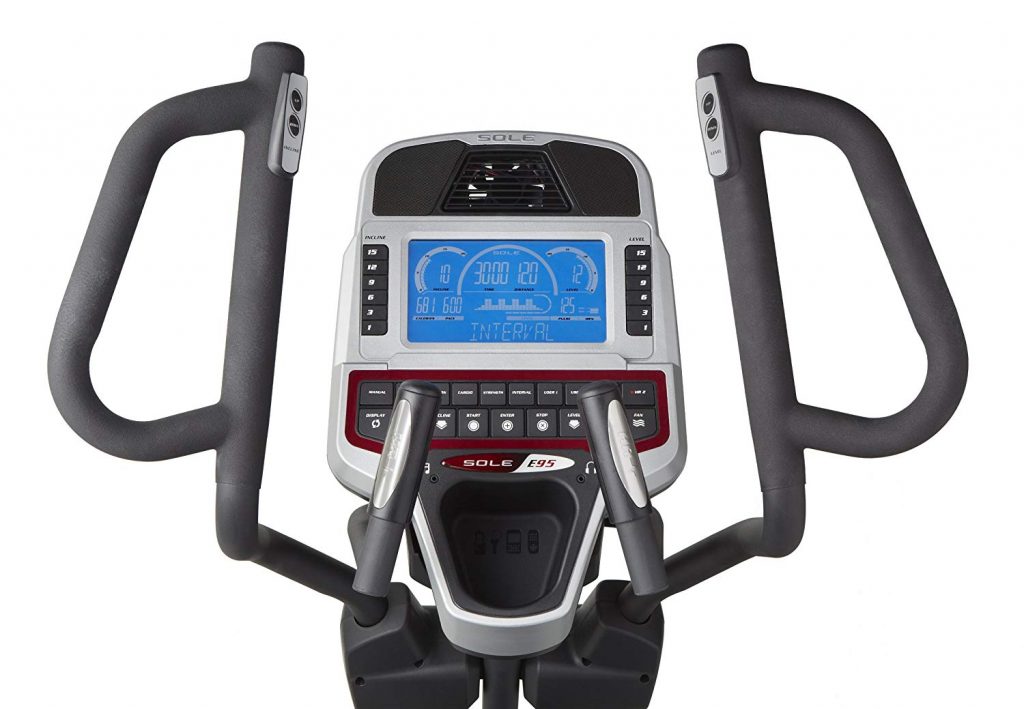 While the Sole E35 may not have all the same features as the E95, it still offers the same quality components and high-end technology. If 16 resistance levels, a 30-degree level plane and 25-pound flywheel are adequate for you, the Sole E35 is an excellent machine that will leave you with comfortable, enjoyable workouts. You won't be disappointed in either machine because both include the same internal workings that keep these elliptical trainers in the top running.
Best Elliptical Trainer Products