Rosemary Gladstar's Herbal Recipes for Vibrant Health
175 Teas,Tonics, Oils, Salves, Tinctures, and Other Natural Remedies for the Entire Family
Herbs are used in Chinese and Hindu medicine which existed some many years ago. Documents show that the herbal medicine makes the person healthy. Even today, there are many users who testify that herbal medicine and other recipes are effective. To provide several ideas about herbal recipes, Rosemary Gladstar wrote a book about it.
The author of the book, Rosemary Gladstar, is the founding president of a nonprofit organization called United Plant Savers. The organization aims to preserve and conserve the American herbs. She also serves as director of Sage Mountain Herbal Retreat Center, the Women's Herbal Conference and the International Herb Symposium.
Gladstar's knowledge about herbs has helped her to write all of her books. Among the best-selling books in the list include Rosemary Gladstar's Medicinal Herbs: A Beginner's Guideand Herbal Healing for Women.
Rosemary Gladstar's Herbal Recipes for Vibrant Health Specifications: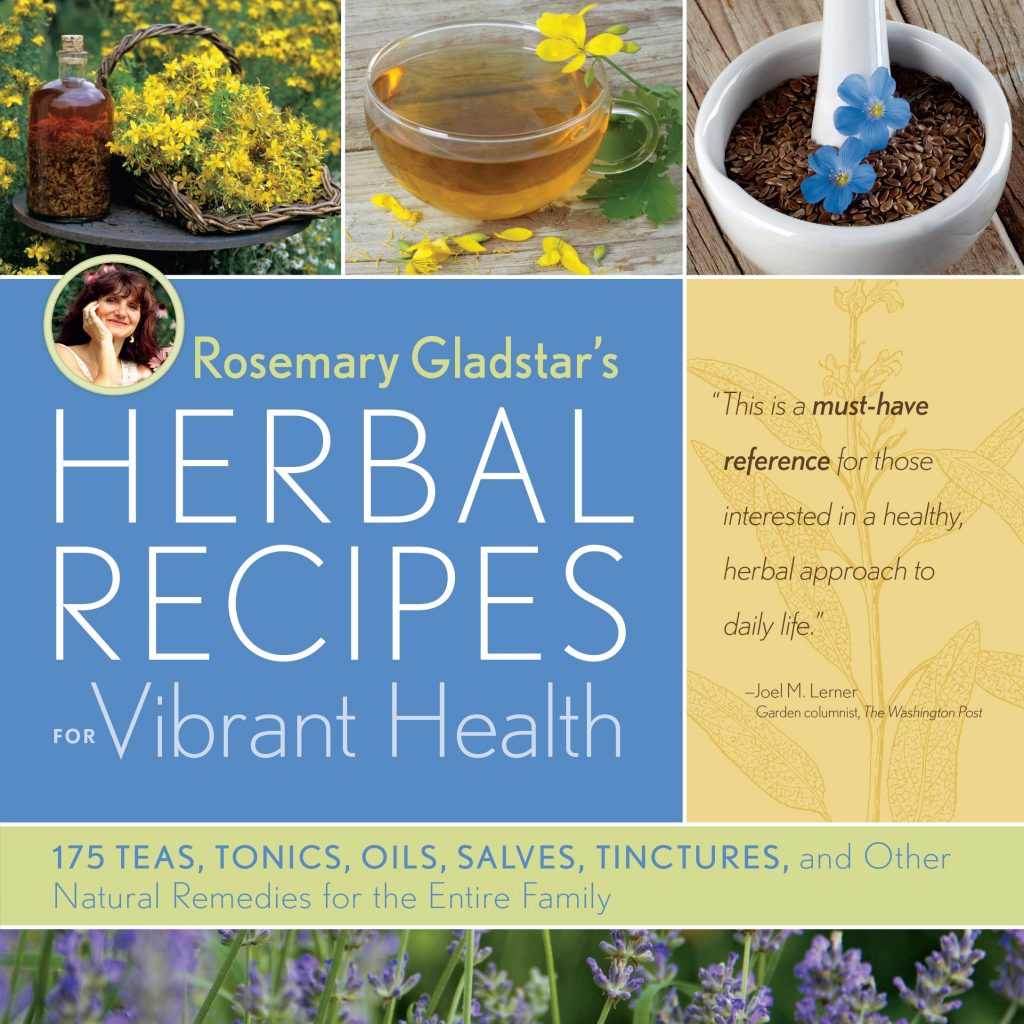 Average Price: $9.83 (Paperback)
Author: Rosemary Gladstar
Age Range: 3 and up
Number of pages: 400 pages
Language: English
Publisher: Storey Publishing, LLC; Reprint edition
Date Published: September 3, 2008
Shipping Weight: 1.8 pounds
Product Dimensions: 7.2 x 7.3 x 0.9 inches
ISBN-10: 1603420789
ISBN-13: 978-1603420785
What's So Great about Rosemary Gladstar's Herbal Recipes for Vibrant Health?
Generous content – Being the president of a nonprofit organization, readers will realize how generous Gladstar in sharing her knowledge to her readers. In her book, she provides information about the herbs which a reader can hear at seminars. It is also reflected in how she tells the readers about caring the plants.
Plenty of recipes – As a heads up, the title of the book indicate the number of recipes that can be expected from the book. It does not disappoint the readers as it's for real. There are plenty of recipes to choose which provides healthy living to the user. The number of recipes offers variety which makes the drinking more fun rather than boring.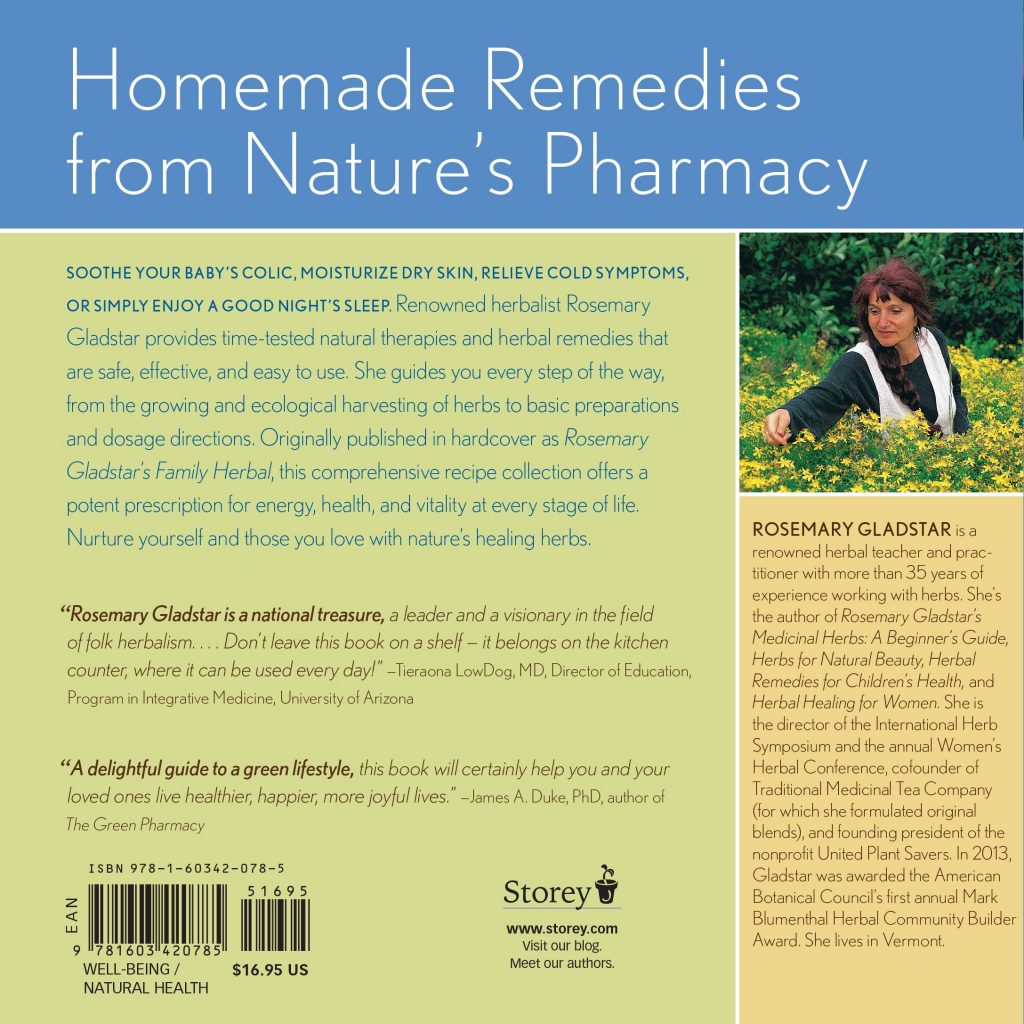 Well-written – Some books are poorly writtenwhich do not encourage a reader to read more. Gladstar's book is commended as a well-written book which provides easy-to-understand recipes and notes. Because it aims to educate, the author make sure that even a student can understand her book. A newbie in the field will also understand and appreciate the book because it can help in their daily lives.
Good content – Herbal teachers recommend the book as it offers informative listing of herbs along with its description. It also includes the dosage for each recipe which matches the needs of adults and kids. The author considers laboratory studies of the herbs which gives the validation that the recipes are effective. The book has several sections for men, women, elder care, children care and everyday ailments.
What's Not So Great about Rosemary Gladstar's Herbal Recipes for Vibrant Health?
Unrealistic – Some readers claim that the book is unrealistic especially when the recipes are followed everyday. There are some instructions that require to drinks several cups of several kinds of tea each day. It can be possible for commercially packed tea but for tea that comes from scratch, it can be time-consuming. It can be appreciated by someone who is not busy but not for working moms.
Inaccuracy – Some herbalist found that there is inaccuracy in the book. The description interchanges such example is between the Ginseng and GinkoBiloba.
Is the Rosemary Gladstar's Herbal Recipes for Vibrant Health a Great Purchase?
The book, Rosemary Gladstar's Herbal Recipes for Vibrant Health, is a good reference for people who study herbalism. Although there are websites that are dedicated to herbs, a book which is handier is a better option. However, the book is not yet available in Kindle. It has the basic information about the herbs which may not be too surprising for the experts but it is still a good collection. It has pictures of herbs which can serve as a reference for herbs that are not commonly used. It has recipes in different form such as lozenges, tincture, capsules and pills. The tea and meals suggested in the recipe are delicious that the whole family will enjoy.
Best Herbal Recipes