Euro Cuisine Yogurt Maker review
Making yogurt at home has never been easier with the Euro Yogurt Cuisine Maker. This yogurt maker allows you to prepare yogurt at home without any mess and in as little time as possible.
In fact, the whole procedure of making yogurt with this machine takes just about 12 hours. The Euro Cuisine Yogurt Maker features 6-ounce jars, packaged in a set of seven, allowing you to make a variety of flavors. The manufacturer, Euro Cuisine, is based in Italy and is well known for creating high quality household products.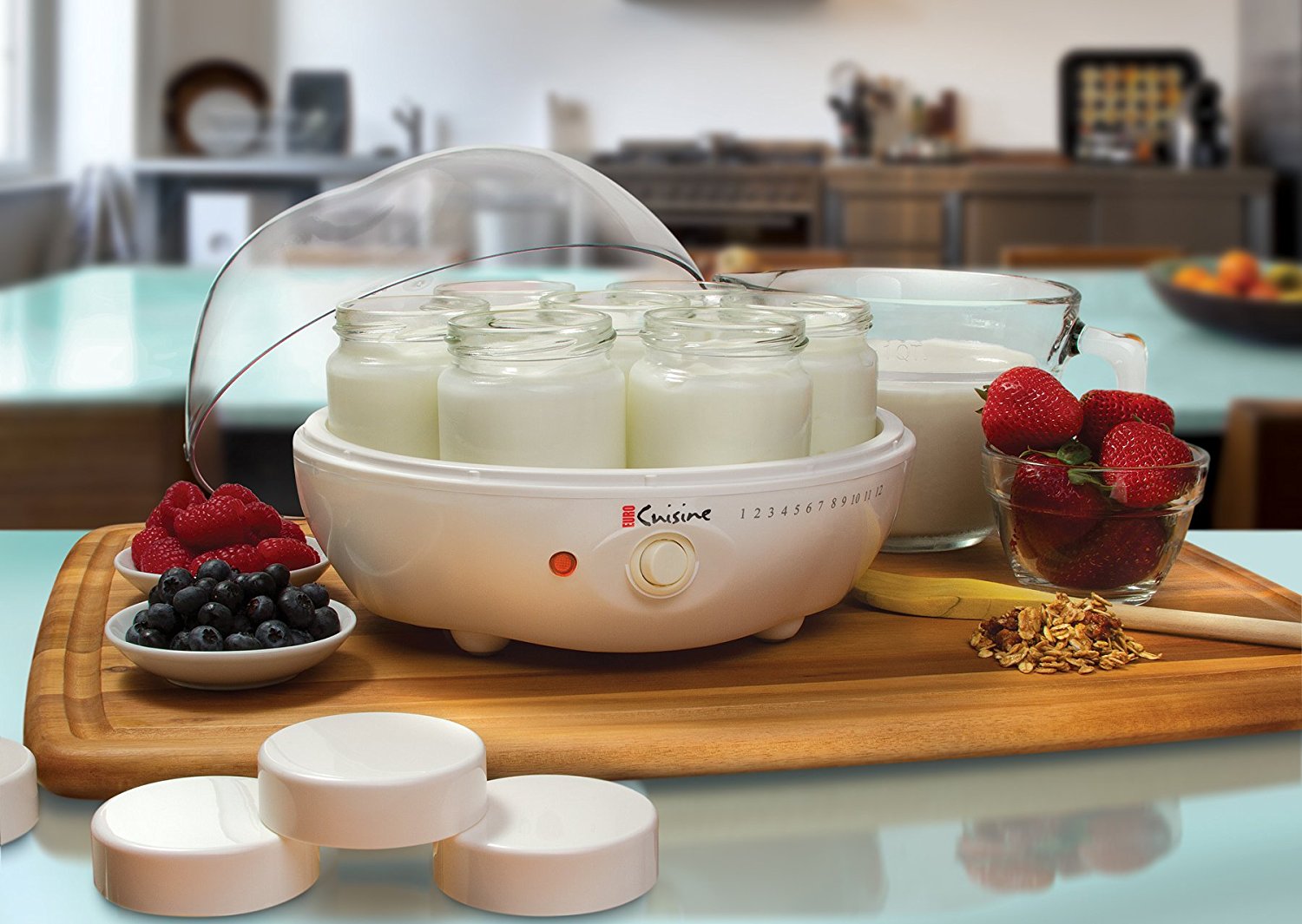 Product features:
Seven 6 ounce jars made from glass
Instructional manual and recipes included
Yogurt starter sold separately
Compact size to fit well in any kitchen
Capacity: 6-oz(7) and can make 42-oz
Volts: 120Watts: 13
Made in Italy
Made from Glass and polypropylene core
3 Year warranty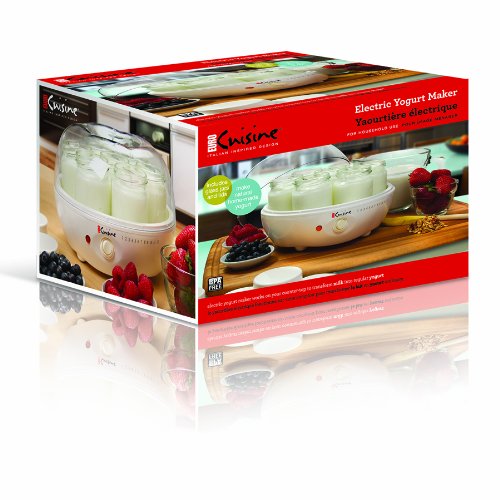 The Good
The Euro Cuisine Yogurt maker is one of the most affordable yogurt makers on the market today. This coupled with the fact that it is one of the most durable yogurt makers available makes it a very impressive piece of machinery. For those looking for a yogurt maker that is affordable and promises to last long, this is the ideal machine to go for.
This yogurt maker is very compact and can be used in just about any kitchen size.  The piece of equipment is also incredibly easy to use, making preparation of the yogurt a wonderful experience. With its convenient 6 oz jars, easy to follow instructional booklet and its well detailed recipe manual, you can make authentic yogurt in just a few hours.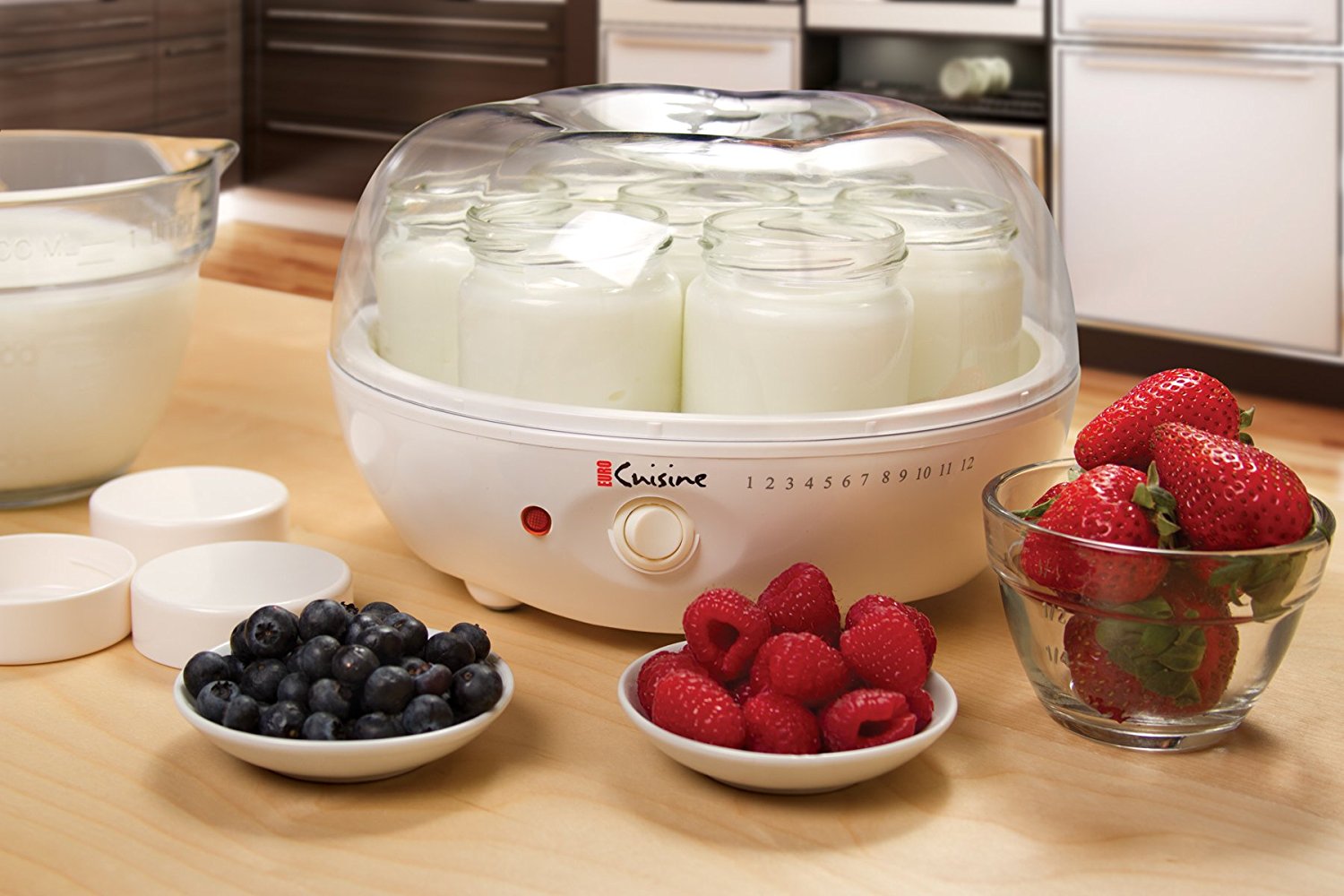 The Bad
The Euro Yogurt Cuisine maker might not impress users who are looking for an automatic yogurt maker. This yogurt maker does not have an automatic timer or an automatic shut off option. This could be a bit problematic for those who are just starting in yogurt making.
However, the lack of an automatic function should not be a problem for users who are looking to have more control over the yogurt making process.
Some users might find that the temperatures go up too high while preparing the various cultures. Overheating will obviously distort the texture and taste of the yogurt. However, you can try using pads that are thinner or adding a little water to cool the cultures down.
Besides from these few minor issues, there is very little bad we can say about this machine.
Our Verdict
Euro Cuisine is already a household name in Italy, and this offering will impress many yogurt lovers looking for a reliable machine that will allow them to prepare delicious and fresh yogurt from home.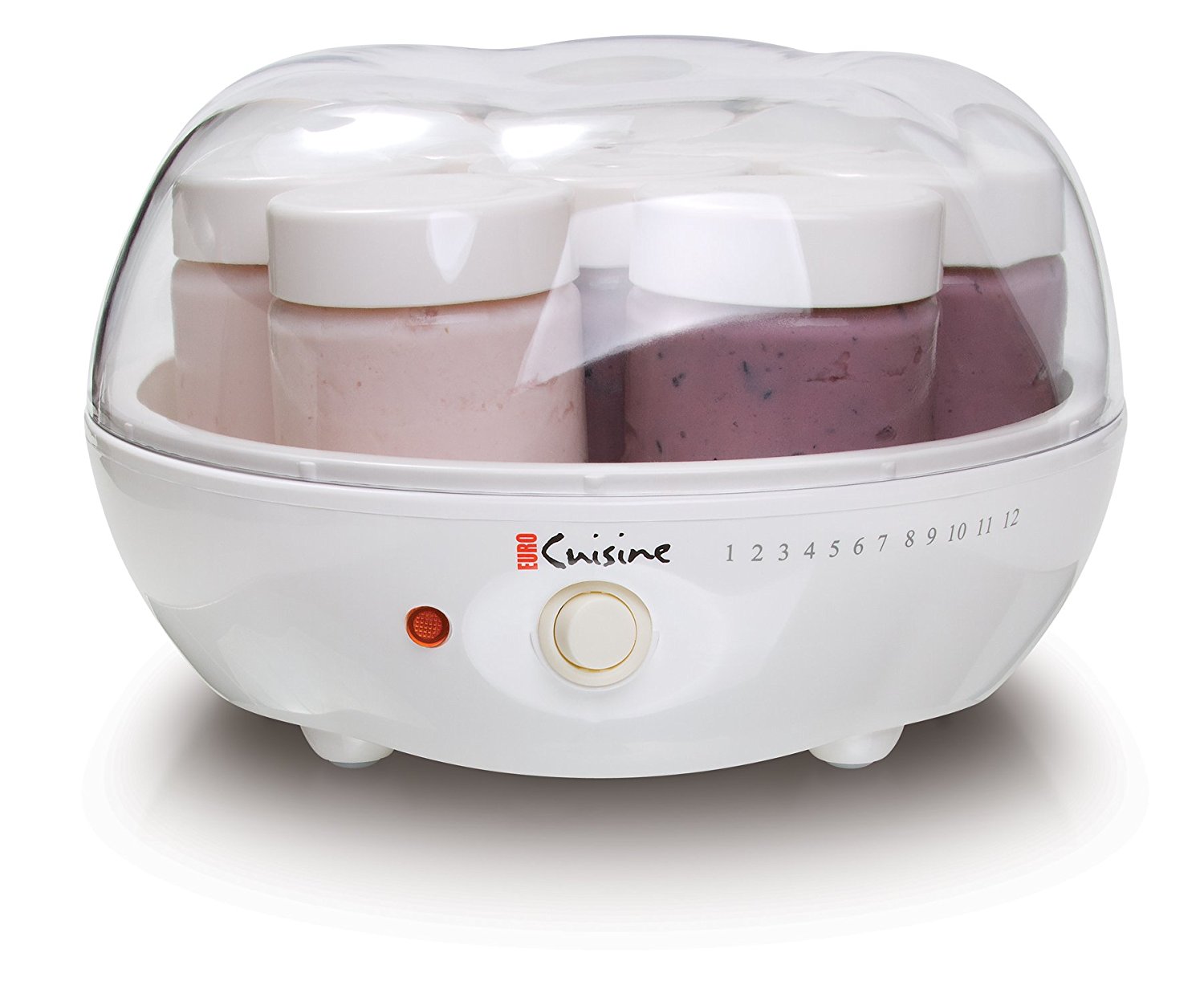 Despite its few drawbacks such as the fact that it is manual, this machine's ease of use, compact design and nicely detailed recipe manual will please users who are looking for a reliable and convenient yogurt machine.
All in all, the Euro Cuisine yogurt maker is an impressive piece of equipment and comes highly recommended. Click here to buy one!
Recommended Products For Yogurt Makers