Eating For Energy The Recipe Book
The foods you eat can have a huge impact on your energy levels. If you fill your body with low quality, processed foods and you'll feel tired and sluggish all day. However, if you eat lots of natural foods, your energy levels will soar and you'll feel focused and ready to take on whatever the day brings.
In this eBook we'll be sharing 10 recipes that will maximize your energy levels and keep your body fully nourished all day long.
For each recipe, you get:
A full list of the required ingredients
Text instructions that describe how to make the recipe
Photos showing each step of the recipe preparation
Beef Caldereta
Craving a good hearty stew to keep the cold at bay? This Spanish-inspired take on the beef stew will satisfy your cravings. Pair this stew with some garlic bread or steamed rice and you've got a very filling dinner!
What You'll Need:
2 cups potatoes, cut into 1 inch cubes or simply cut baby potatoes in halves
1 lb beef chunks (you can use brisket or any meaty part)
3 cloves garlic, roughly chopped
1 piece red chili
1 small red onion, chopped
1 medium green bell pepper, cut into 1 inch squares
1 medium red bell pepper, cut into 1 inch squares
2 cups tomato puree
1 cup beef broth (from cooking the beef)
1 cup carrots, cut into 1 inch cubes
Half a cup frozen peas (or use fresh ones)
Salt
Pepper
1 tablespoon soy sauce (optional)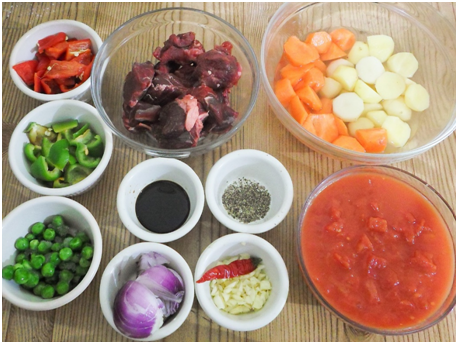 Let's Make Some Yummy Beef Caldereta!
In a saucepan over medium heat, cook the beef with enough water to cover it until tender.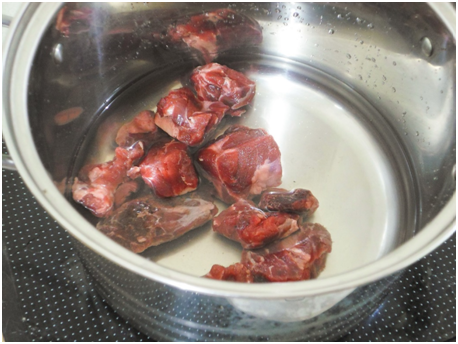 In another pan, pan-fry the potatoes just until they develop some color. This step prevents the potatoes from getting mushy when added to the stew later.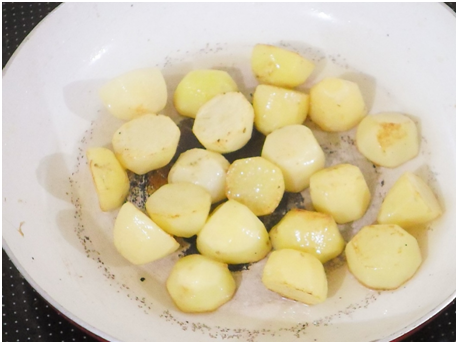 Once the beef is tender, take out the broth and then sauté the beef with the onion, garlic, and red chili just until the outside gets slightly browned and the onions has become translucent.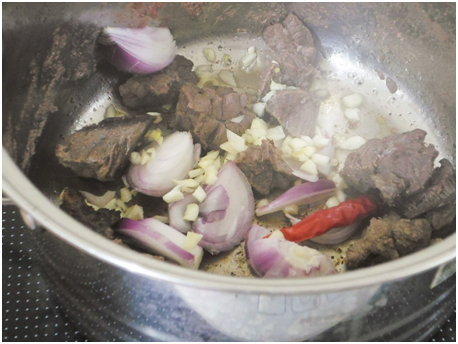 Add the bell peppers and sauté for about a minute and then add the tomato puree and beef broth. Bring to a boil and simmer for 5 minutes.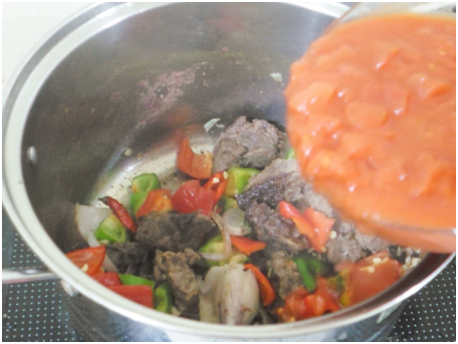 Add the carrots and potatoes and cook for 10 minutes on low.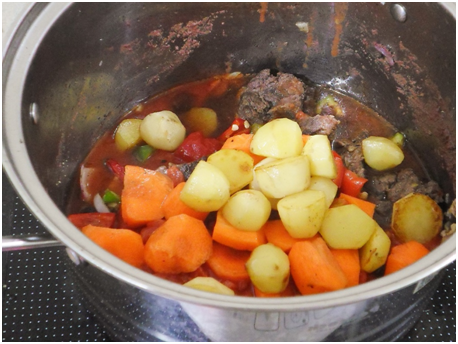 The liquid will reduce and if you want a saucier caldereta, you may add a bit more broth at this point.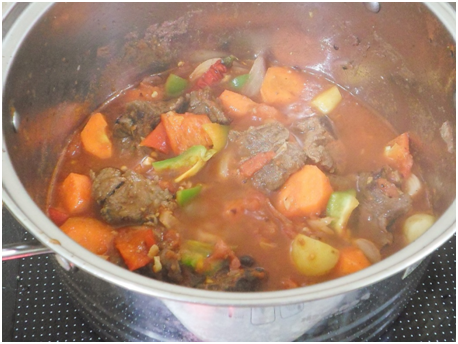 Add the peas, stir together and turn off the heat. The residual heat will cook the peas.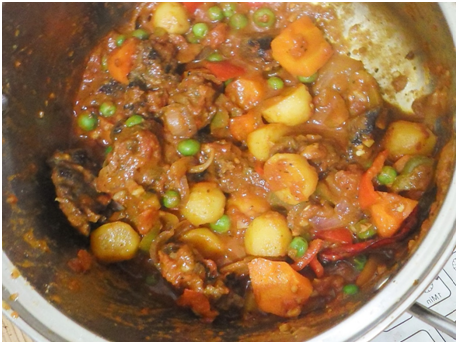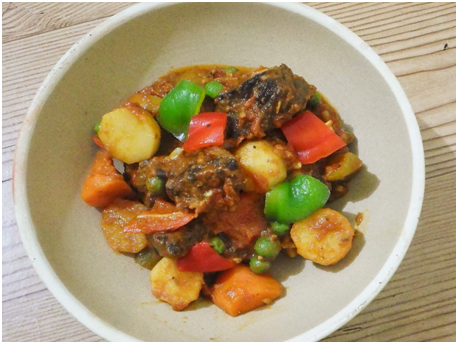 Note: This recipe makes 3-4 servings, can easily be doubled by using twice as much of each ingredient if feeding a larger family.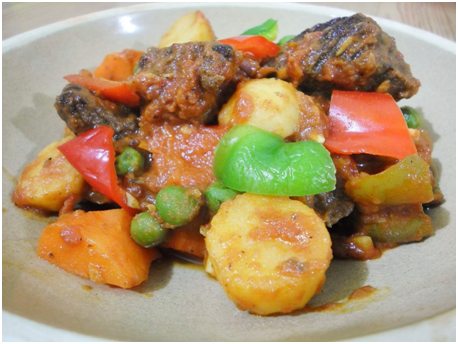 Beef Stroganoff
Creamy, meaty, and oh so delicious! That's how beef stroganoff should be. This version is slightly better though, as this comes together in a jiffy (because we'll be using canned cremini mushrooms). All that's needed is some buttery noodles or some steamed white rice and dinner is served!
What You'll Need:
Half a pound of rump steak, sliced thinly
1 medium onion, chopped up
1 cup or 8oz can cremini mushrooms, drained
Half a cup of sour cream
Half a cup of beef broth
A teaspoon of Worcestershire sauce
A tablespoon of butter
A tablespoon of flour (for a thicker sauce, but this is optional)
A tablespoon of olive oil
Some parsley for garnish
***I'm only using half of the amounts in the list of ingredients in the photos but the full recipe is good for 2 servings. Can easily be converted for a family dinner by simply multiplying everything by 2.
Let's Start Cooking!
In a pan over medium high heat, sear the beef in the oil until browned on both sides but only halfway cooked. Set aside.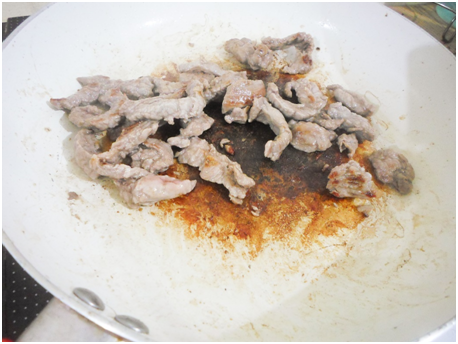 In the same pan, sauté the onion and mushrooms in butter until the mushroom develops some color and the onion has become translucent.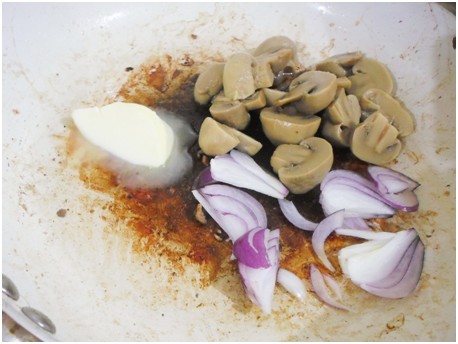 Turn down the heat a little bit and sprinkle the flour over the onion and mushroom, toss to let the flour cook in the butter but be careful not to burn it.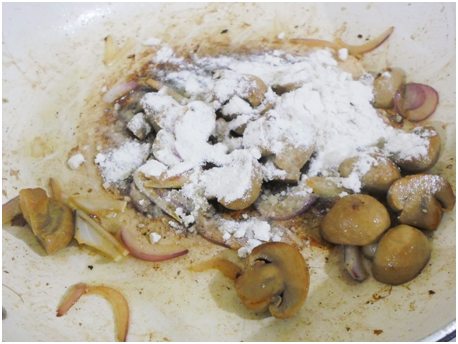 Add the beef broth. The broth will thicken fast so be sure to keep on stirring and keeping the heat between low to medium.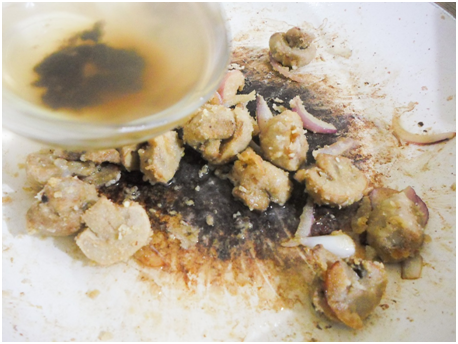 Add the beef. At this point the dish looks more like beef and gravy.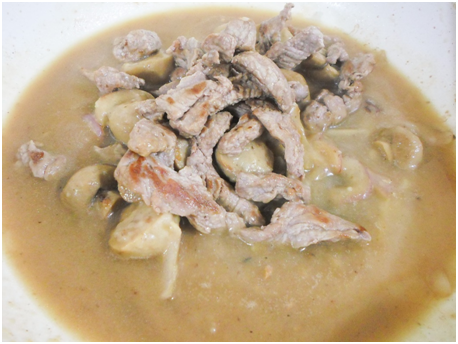 Add the sour cream and Worcestershire sauce. Stir together until the cream is heated through. Do not allow to boil, just gentle heat for about a minute or two.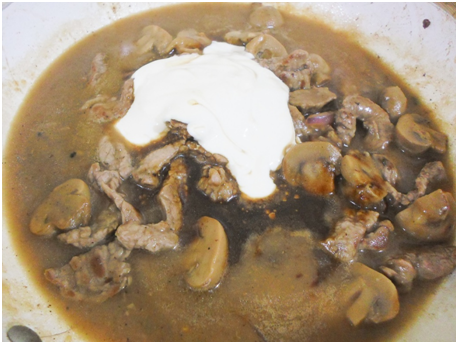 Serve over pasta and sprinkle with some parsley. Enjoy!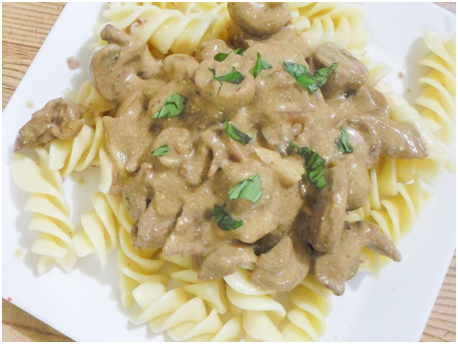 Chop Suey
Chop Suey or the Chinese Mixed Vegetables as coined by some, originated from the Chinese American people way back the dynasty era of the emperors. It is believed that the Fookien descent that migrated to the United States introduced the said dish and is now highly known all over the world. This dish can be seen eaten at the Chinatowns around the globe, of which the Chinese is known to have in every country you set your foot in.
This dish consists of several vegetables that are mixed and stir fried and can also be served with rice or stir-fried noodles. It can be bounded by an oyster sauce or a starch thickened sauce. This is usually cooked quickly so that the vegetables would retain its freshness and nutritional content. If you are ready to be healthy in no time, then this is the right time to prepare this! Let us begin cooking!
What You'll Need:
¼ kilo pork liver chopped into thin slices
garlic
white onion
virgin olive oil
iodized salt
1 pc. carrot
baby corn
snow peas
2 pcs. red bell pepper
pork cubes (seasoning)
Chinese cabbage
cabbage
oyster sauce
Let's Start Cooking!
Prepare all the ingredients needed for this healthy dish.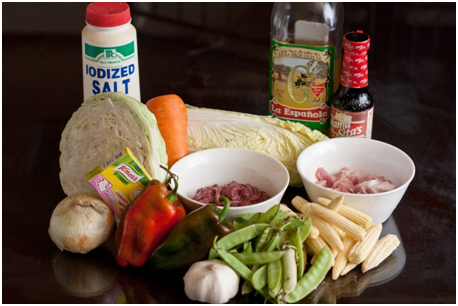 Chop the vegetables that need to be sliced. This will include bell pepper, baby corn and carrots.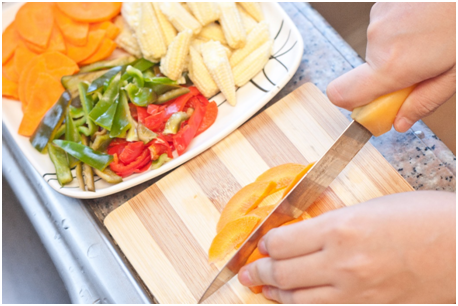 Prepare the leafy vegetables by rinsing it properly under a running tap water. Make sure to remove the leaves from its main stem.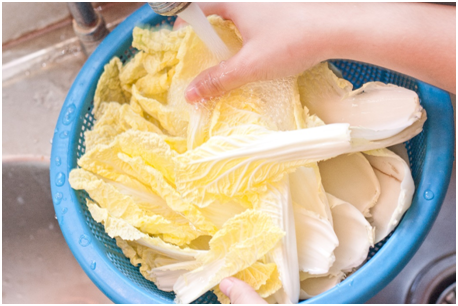 Chop the cabbage and the Chinese cabbage into long slender slices.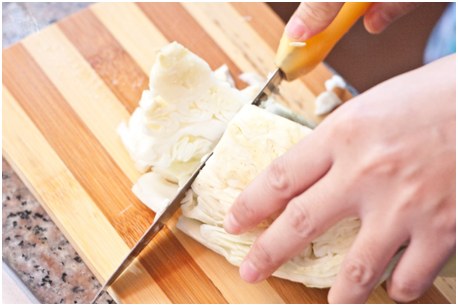 Put a considerable amount of virgin olive oil on the pan.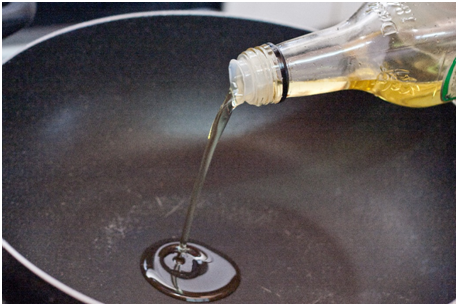 Fry the pork slices first under low heat until the pork turns golden brown.
Set aside the fried pork and put the garlic in.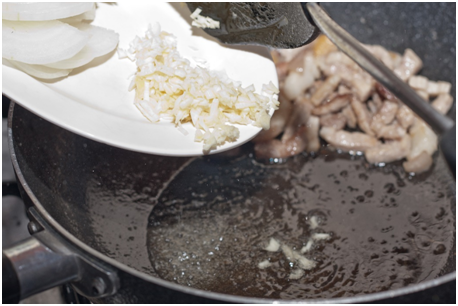 Cook the garlic until golden brown.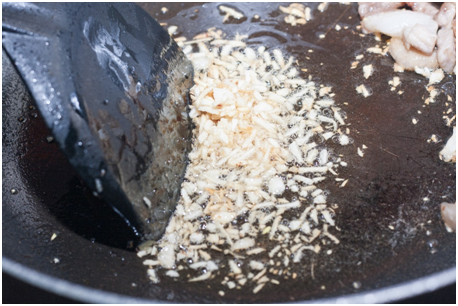 Put the pork liver on the pan together with the fried pork and garlic.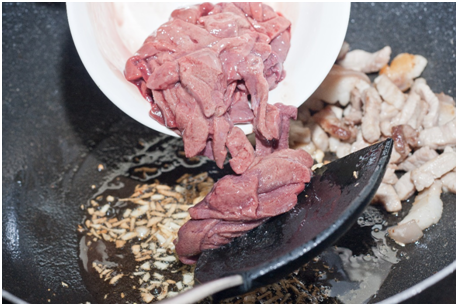 Mix the pork, pork liver and garlic together and let it simmer for 5 to 10 minutes.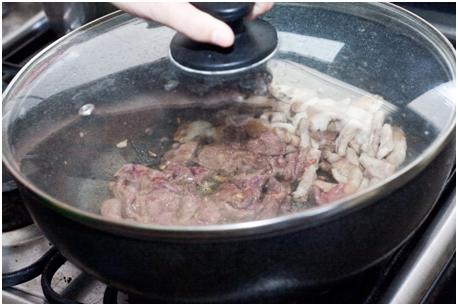 Add the green and red bell pepper and the pork cube as seasoning. You may want to put half of the cube first and adjust the taste later on. Cover the pan again for 5 minutes and let the bell pepper taste and be absorbed by the meat.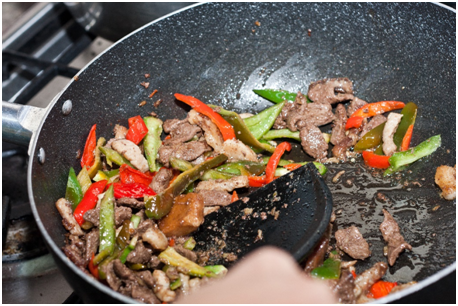 Add the carrots and the baby corn and mix them thoroughly for even cooking.
Add at least 1/8 cup of water and close the pan again. Let it simmer for 5 minutes.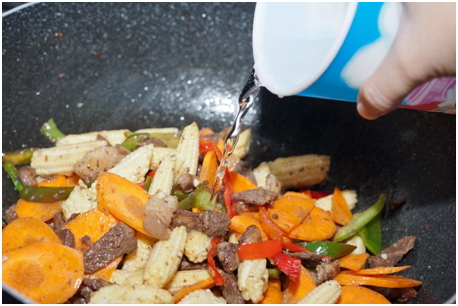 Add a generous amount of oyster sauce to the vegetable mixture. Mix it afterwards.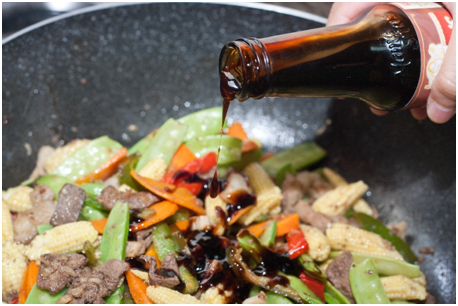 Add all the green leafy vegetables and the white onions to ensure the crispiness. This will also avoid overcooking the leafy ones. Overcooking removes the nutritional content of the vegetables which is not good for our health. Mix everything and dispense the dish on the bowl.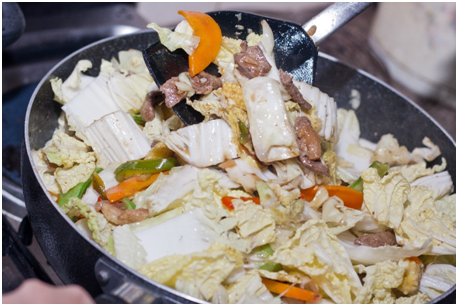 Finally done! The healthy chop suey dish is now ready for serving!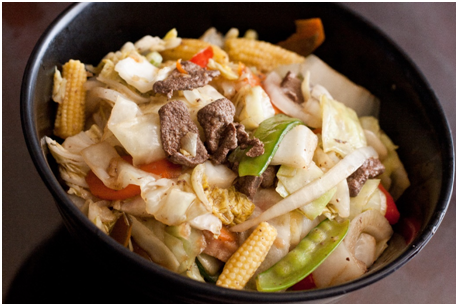 These is perfectly served while hot and eat this as soon as possible to enjoy its freshness and the sweet juices that came off the veggie. This Chinese mixed vegetable is a healthy dish option that is good for the health conscious individuals. Enjoy and eat healthy!
Creamy Chicken Stuffed Peppers
Cooking separate appetizers and main dishes can sometimes be just too labor intensive. This creamy chicken stuffed peppers aims to make dinner preparation a lot easier. Served on its own or served over freshly cooked pasta, this dish can be made in advance and finished in the oven for an easy weeknight meal that looks like it's been cooked all day.
What You'll Need:
1 lb chicken breast, grounded up or minced
3 big peppers, halved and cleaned
1 ½ cups marinara sauce
½ cup shredded mozzarella
Salt and pepper to taste
1 cup all-purpose creams
1 red onion, diced
3 cloves garlic, finely chopped
1 cup button mushrooms or shitake mushrooms (whatever you prefer), sliced
1 tablespoon vegetable oil
Let's Get Cooking!
In a pan over medium high heat, cook the chicken with the oil until only slightly pink.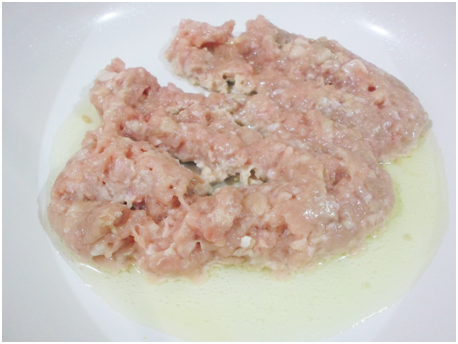 Prepare the vegetables (garlic, onion, and mushrooms).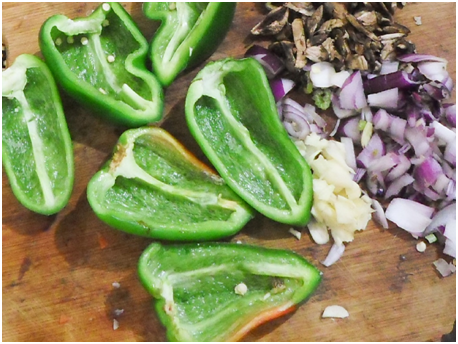 Add the prepared vegetables unto the chicken and cook for about 3 minutes or until the mushroom has wilted and the onions are translucent.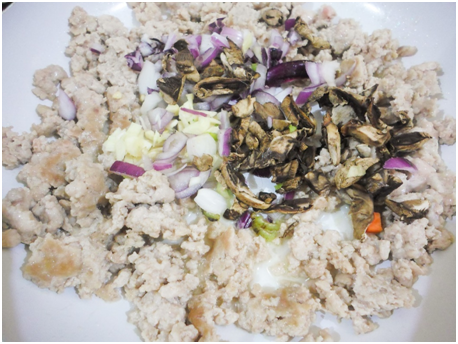 Add the cream and season with salt and pepper to taste.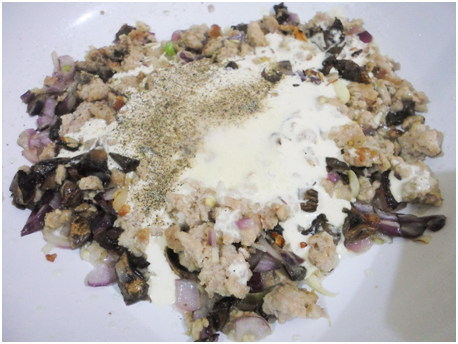 Cook for another 2 minutes with heat on medium low just until the cream has thickened and has been absorbed by the chicken and mushrooms.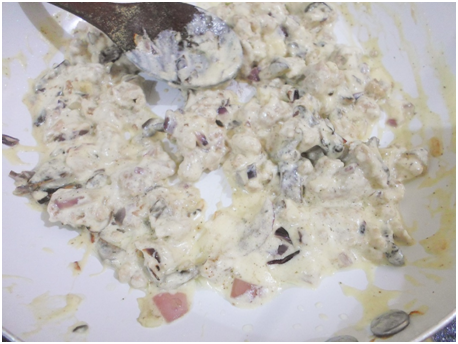 Spoon over the peppers to really stuff them. At this point, they can be placed in the refrigerator or cooked immediately (can be prepared the night before).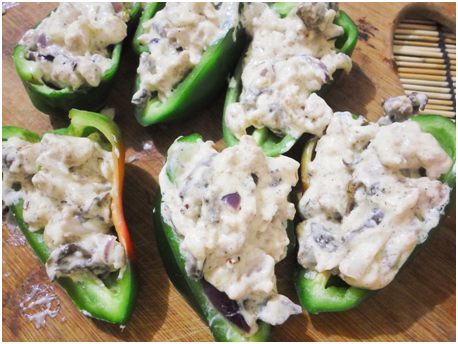 When ready to serve, preheat oven to 180C. Place the marinara sauce on a casserole and add the peppers after. Bake for 20-25 minutes on the middle rack.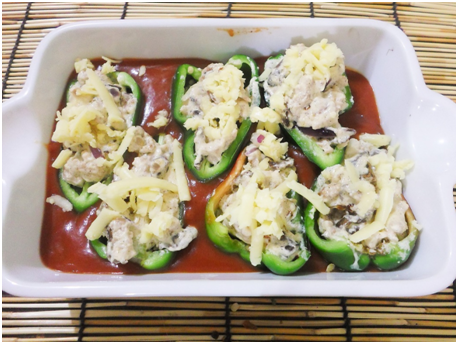 Serve warm but not piping hot. Because the peppers have been cooked in sauce, they can be served over pasta or mashed potato.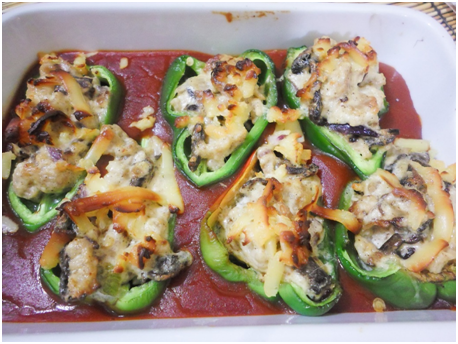 Serves 3 for dinner, 6 as an appetizer.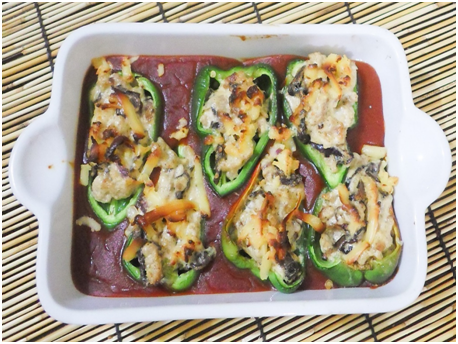 Filipino Pork BBQ Skewers
They say no Filipino gathering is complete without some lumpia and some pork BBQ, and with a pork BBQ recipe this addicting, you'll find every reason there is to host a get together! This recipe is scaled down to serve just around 3 persons (because most recipes online make at least a few kilos' or pounds' worth) but you can easily make a few batches and simply keep some until later.
What You'll Need:
1 ½ lbs pork meat, cut into bite-size pieces (you may use shoulder meat or any part of pork with a bit of fat marbling the meat), about 700 grams
Quarter cup soy sauce
Quarter cup white vinegar (use cane vinegar)
2 tablespoons catsup
2 tablespoons brown sugar
½ teaspoon salt
½ teaspoon ground black pepper
A pinch of chili powder (optional)
2 cloves garlic, finely chopped or minced
Skewers (you may use metal or bamboo ones)
Juice of half a lemon
Let's Put Together a Fantastic BBQ!
This dish starts with the marinade. You may prepare the marinade up to a day in advance. In fact, it is also great for basting roast chicken! In a bowl, combine soy sauce, catsup, vinegar, lemon juice, brown sugar, chili powder, salt, pepper, and garlic.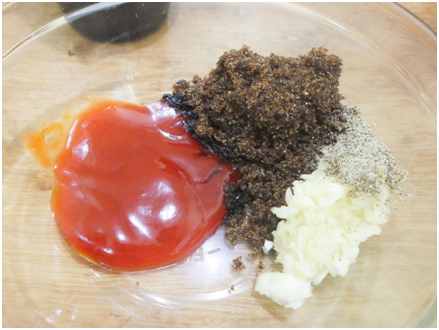 Mix everything together until well-combined.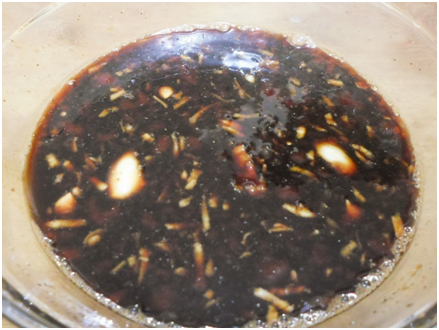 Skewer the pork pieces and place in a Ziploc bag. Pour the marinade over and marinate for 4 hours up to 3 days in the fridge (it really is better the longer it is refrigerated!). Be sure to take them out of the fridge at least half an hour before cooking.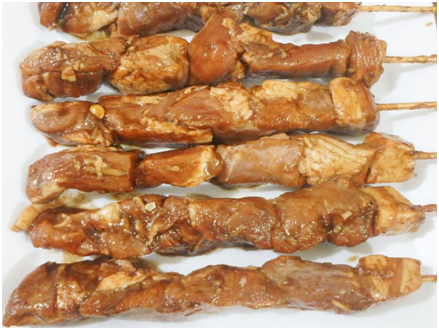 To cook, heat up a grill pan or an outdoor grill until very hot. Cook for about 2 minutes on each side (3-4 sides).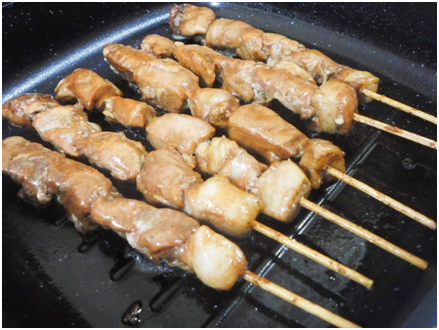 Make sure to turn over frequently and baste with remaining marinade until cooked.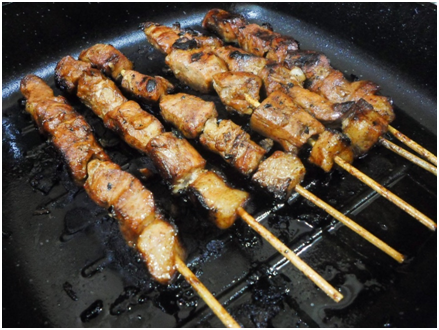 Serve with beer, rice, or a salad!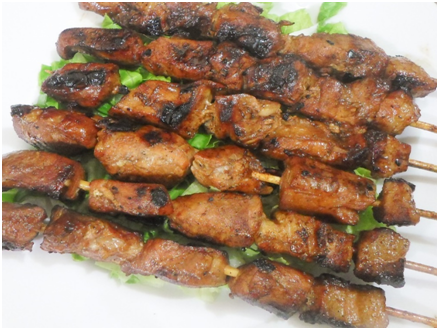 Paella
Just because it is a busy day does not mean that you'll have to do without some tasty but easy to make dishes such as this simplified version of the much-loved paella. While this is in no way a traditional recipe, there is no denying the fact that you'll have a happy belly with this meal!
What You'll Need:
1 ½ cup rice (any type that cooks well on stove top, you can go for long grain, traditional paella rice, or use the short grain variety)
Half pound chicken meat cut into pieces
A handful of shrimp (you can use the frozen kind)
Lemon for garnish
½ cup each of red and green bell peppers (capsicum)
A pinch of Saffron (optional)
1 medium sized white onion, cut into small pieces
2 tablespoons olive oil
2-3 tablespoons frozen peas
Half a pound of mussels (or use whatever seafood you like)
Half a pound clams (or use any seafood you like)
4 ounces of chorizo, sliced (you can use whatever sausage you like as well)
3 large tomatoes diced into very small pieces or use 1 cup of canned diced tomatoes
4 cups chicken stock or seafood stock
Salt and pepper to taste
Let's Make Some Awesome Paella Inspired Dinner!
A shallow pan or paellera works well, as well as a frying pan. Start with browning the chicken with the olive oil until chicken is cooked through.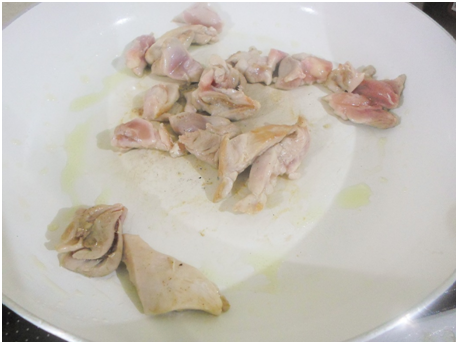 Add the onions and sauté until translucent.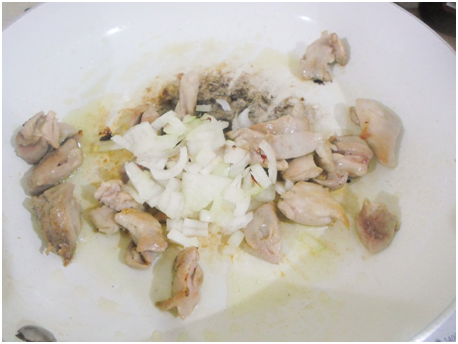 Then follow with the bell peppers, chorizo, and saffron. Cook over medium heat for about half a minute and stirring constantly.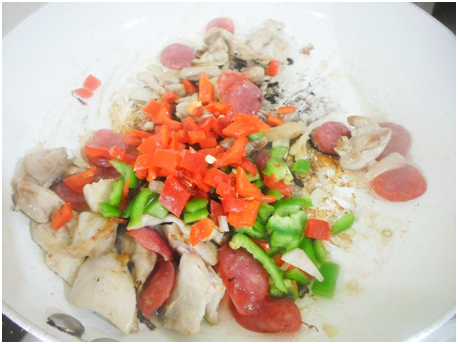 Add in the rice and mix everything until the oil coats the rice.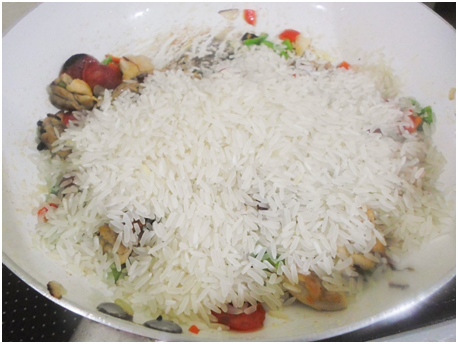 Follow it with the tomatoes.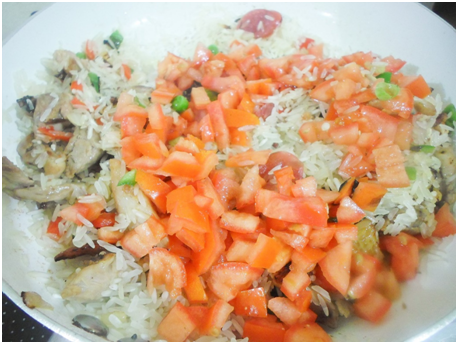 And stock. Cover and bring to a boil over medium heat. Reduce heat to low-medium after it boils and cook covered for another 12-15 minutes. Do not stir!
Check if rice is nearly done.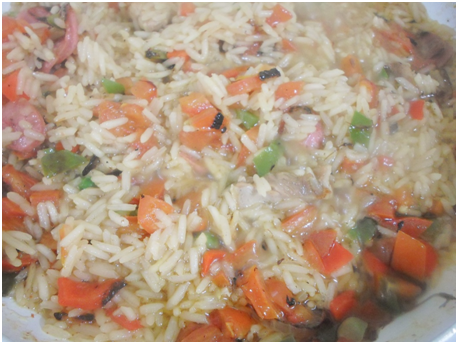 Once the rice is already cooked, add the seafood and peas on top. You may arrange them in a pattern for a more appealing dish. Cover and cook for another 5 minutes.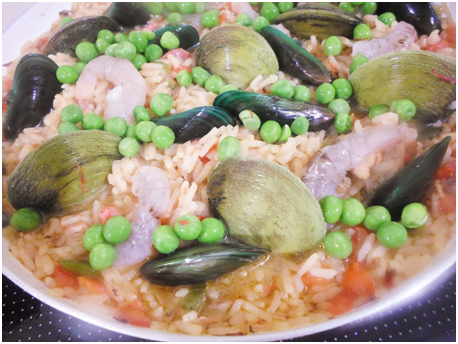 That's it! You now have a delicious one pot meal! Don't forget lemon wedges!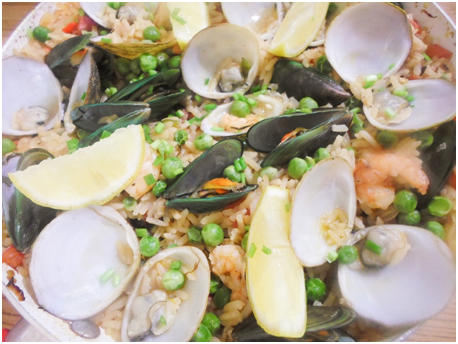 This recipe serves 2-4 hungry persons.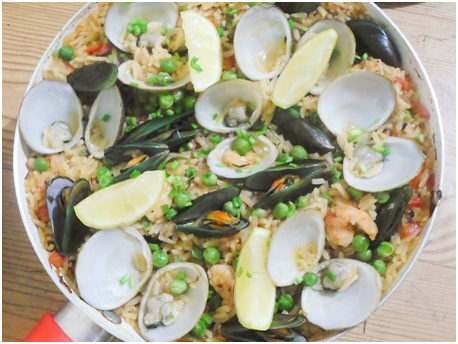 Lime and Garlic Grilled Lamb Chop
Grilling is one of the most popular cooking methods for meats and for a good reason. There's just something about the simplicity of it and how it imparts a delicious smokiness to meat without masking its true flavors that makes it very appealing. In this grilled lamb chop recipe, we'll let the grilling do the talking and simply bask in the gastronomic delight it makes out of some affordable lamb chops.
What You'll Need:
2 to 3 pieces of lamb chops (about 1-1.5 lbs)
The juice of half a lime
2 tablespoons extra virgin olive oil
3 cloves of garlic, crushed and chopped into small pieces
A small dash of salt
A small dash of freshly cracked black pepper
Let's Grill!
You can use fresh or frozen lamb for this recipe but the key is bringing the meat to just slightly below room temperature. It will take on the marinate faster this way and make sure it will be ready for grilling in just a short while. If you are using an outdoor grill, now would be the time to get it heating up and also to bring out all your ingredients.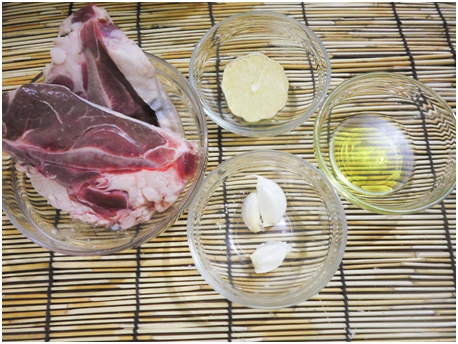 Start by marinating the lamb in lime juice, garlic, olive oil, salt and pepper. The 'marinating' process can be anywhere from 15 minutes to 4 hours but 30 minutes would be ideal so as not to over-season and dry out the meat (because of the lime juice and salt).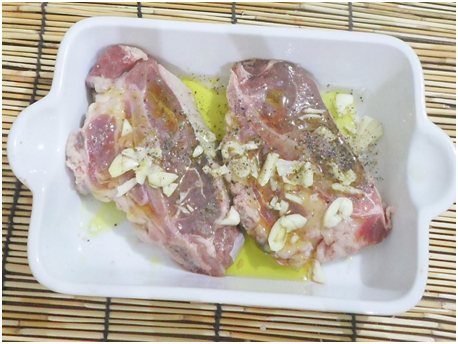 After a few minutes, the acid in the lime juice will start turning the color of the meat as though it's been blanched in hot water.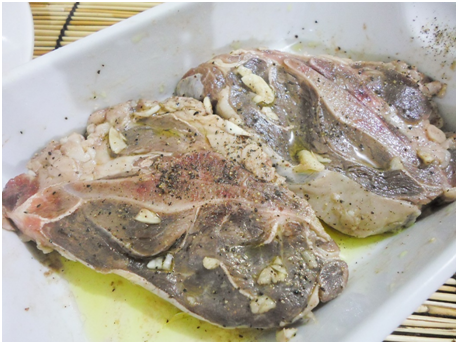 Grill the lamb on an outdoor grill or a preheated pan grill, cooking each side for 4-5 minutes. Longer if you want it cooked through or if you are using a thicker slice. Using a non-premium cut for this recipe is perfectly alright, so this is a great way to take advantage of a butcher's sale!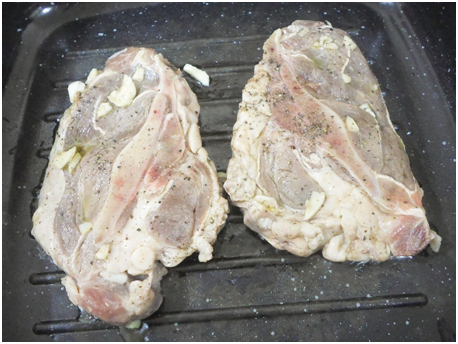 Serve with some baked potatoes or a salad. The meat can also be used for making sandwiches. Enjoy!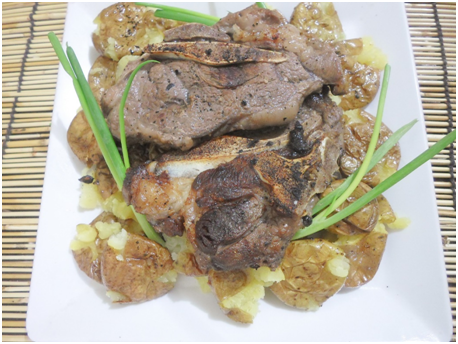 Easy Roasted Pork Belly
Easy oven roasted pork belly which is on the table in less than 40 minutes? Yes, it is possible! The flavors of a pork barbeque in a roast combined with no fuss cooking are the main attractions of this recipe. Did we mention it practically takes care of itself too? Serve this with some salad, mashed potato or even use it up for some sandwich filling. This roasted pork belly will satiate both carnivores and health buffs alike.
What You Will Need:
1 pound pork belly, sliced into half an inch slabs.
2 tablespoons mustard
2-3 tablespoons paprika
2 tablespoons oil
2 tablespoons Italian seasoning or any herby low salt seasoning which you are fond of
The juice of half a lemon
2 ½ tablespoons of brown sugar
Time to Roast That Pork Belly!
Prepare everything you need and preheat the oven to 200C.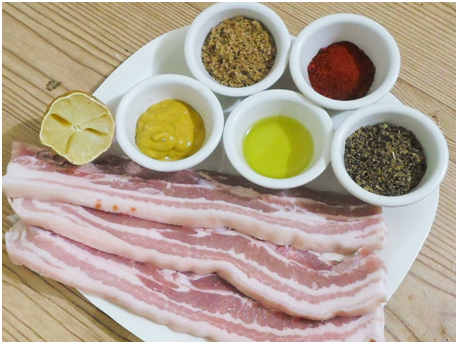 Mix up the spice mix/rub by combining the mustard, paprika, brown sugar, oil, Italian seasoning an oil in a bowl until fully mixed.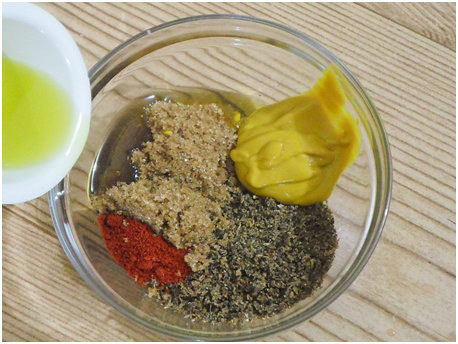 The mixture will look like thickened barbeque sauce, which makes it perfect for coating the pork belly with.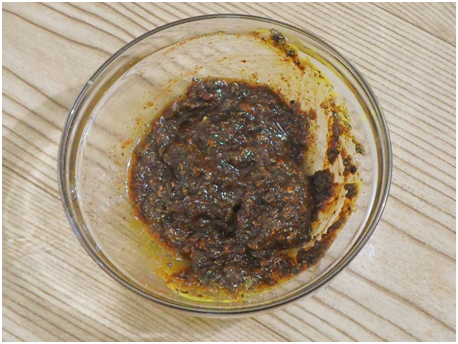 Use half the mixture to coat the pork belly evenly on one side and use the other half for the remaining surface area of the pork.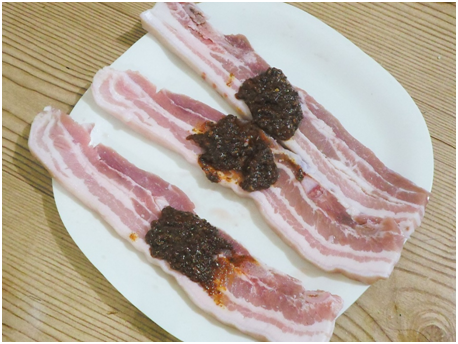 Squeeze in some of the lemon juice too for extra fresh and tangy taste.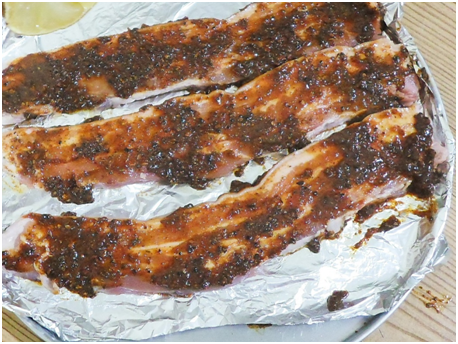 Roast in the oven at 200C for 20-25 minutes, making sure to flip it halfway through. The broiler works too, with some adjustment in cooking time.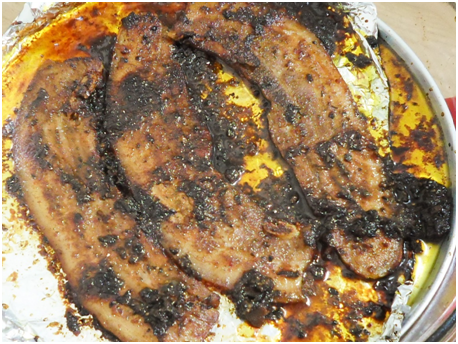 Serve as is or slice up. This roasted pork recipe goes well with mashed potatoes, salad greens and even with some light pasta. The best part? It is even after the day after it is cooked so you can just double or triple the recipe and feed a crowd or save some for awesome leftovers!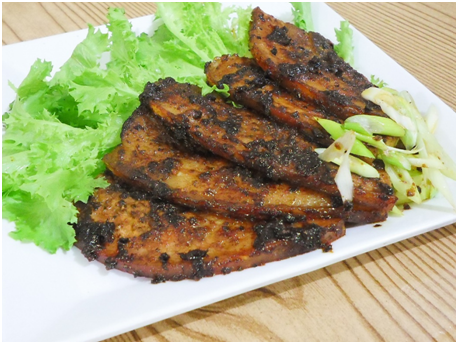 Yellow Curry Pork
A delicious curry dish need not take a whole day's work in the kitchen. This recipe uses yellow curry paste and will be ready in just 15 minutes! Perfect after a long day at work or when you've got the midnight munchies.
What You'll Need:
1-pound pork meat (any part) sliced into 1 inch cubes
1 cup coconut cream (not the same as coconut milk)
2 tablespoons Thai yellow curry paste
3/4 cup white cooking wine (or use chicken broth)
1 big red bell pepper sliced into strips, about 1 cup
½ cup green onion cut into 1 inch sections
1 tablespoon cooking oil (any mild tasting oil, do not use olive oil)
Salt and pepper to taste (optional)
Let's Make Some Yummy Yellow Curry Pork!
Use a wok or skillet over high heat. Cook the pork with the oil until the edges are browned.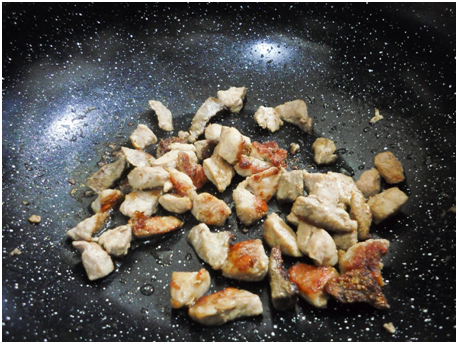 Add the red bell peppers and sauté for about half a minute. Reduce the heat to medium.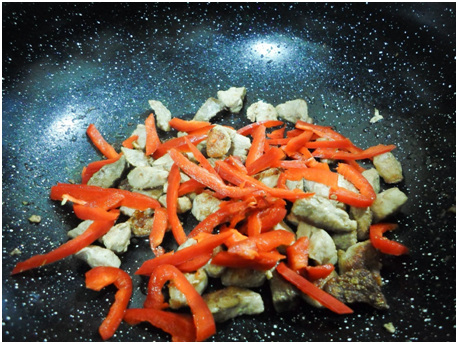 Clear some space in the center of your pan/wok and add the Thai yellow curry paste. You'd start to smell the spicy mix cooking.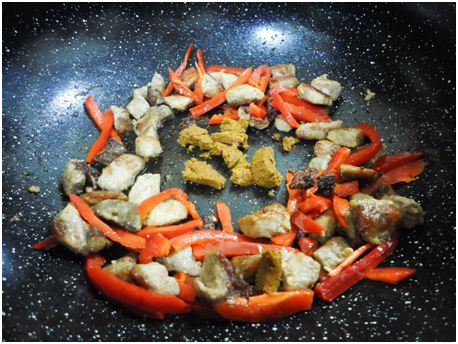 Immediately add the coconut cream.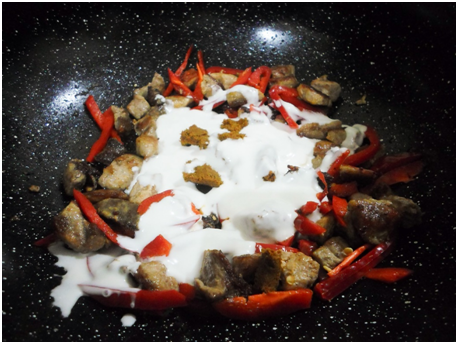 Follow it with the broth, and simmer for about 5 minutes until the sauce has thickened.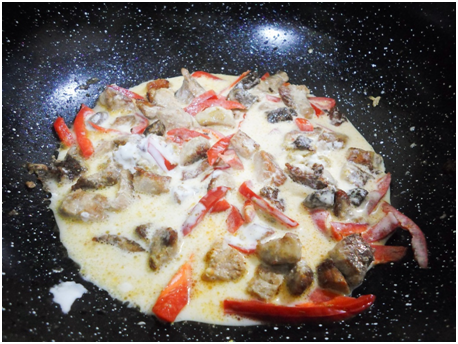 Add the green onions and cook for another 2 minutes keeping it at a simmer only.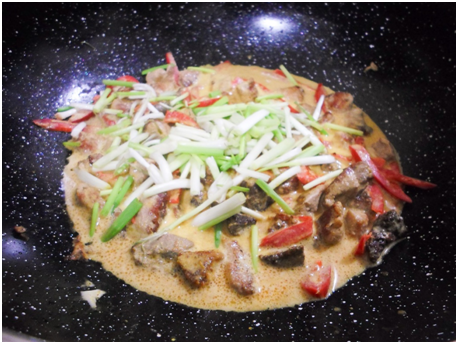 Serve over steamed jasmine rice and garnish with some fresh green onion. Enjoy!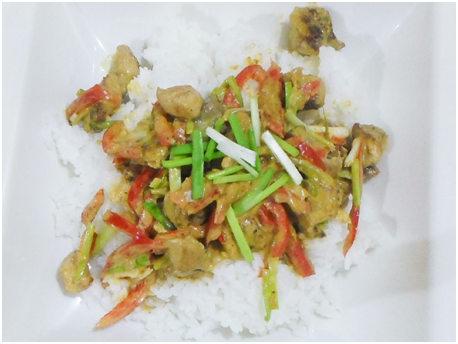 Note: The recipe makes 3-4 servings. If you cannot find coconut cream, simply use 1 ½ cups coconut milk in the recipe and omit the broth/wine. The dish is even better the next day and can be eaten warm or room temperature. A squeeze of lemon won't hurt if the dish turned up too spicy for your liking.
Best Eating For Energy Products