Breville ESP8XL Cafe Roma Stainless Espresso Maker
No other machine understands the perfect balance of temperature and pressure like the Café Roma from Breville. This machine features heavy-duty stainless steel housing, a 15-bar Thermoblock pump and synchronizing filters. These features lead to the best tasting espressos, as the pump forces water through the coffee grounds at an ideal pressure, while the filters perfectly extract and caramelize coffee oils. When completed, you're left with a delicious tasting espresso that has the perfect amount of crema. Both novice and experts will love this machine, as it's easy to operate, but leaves room to experiment.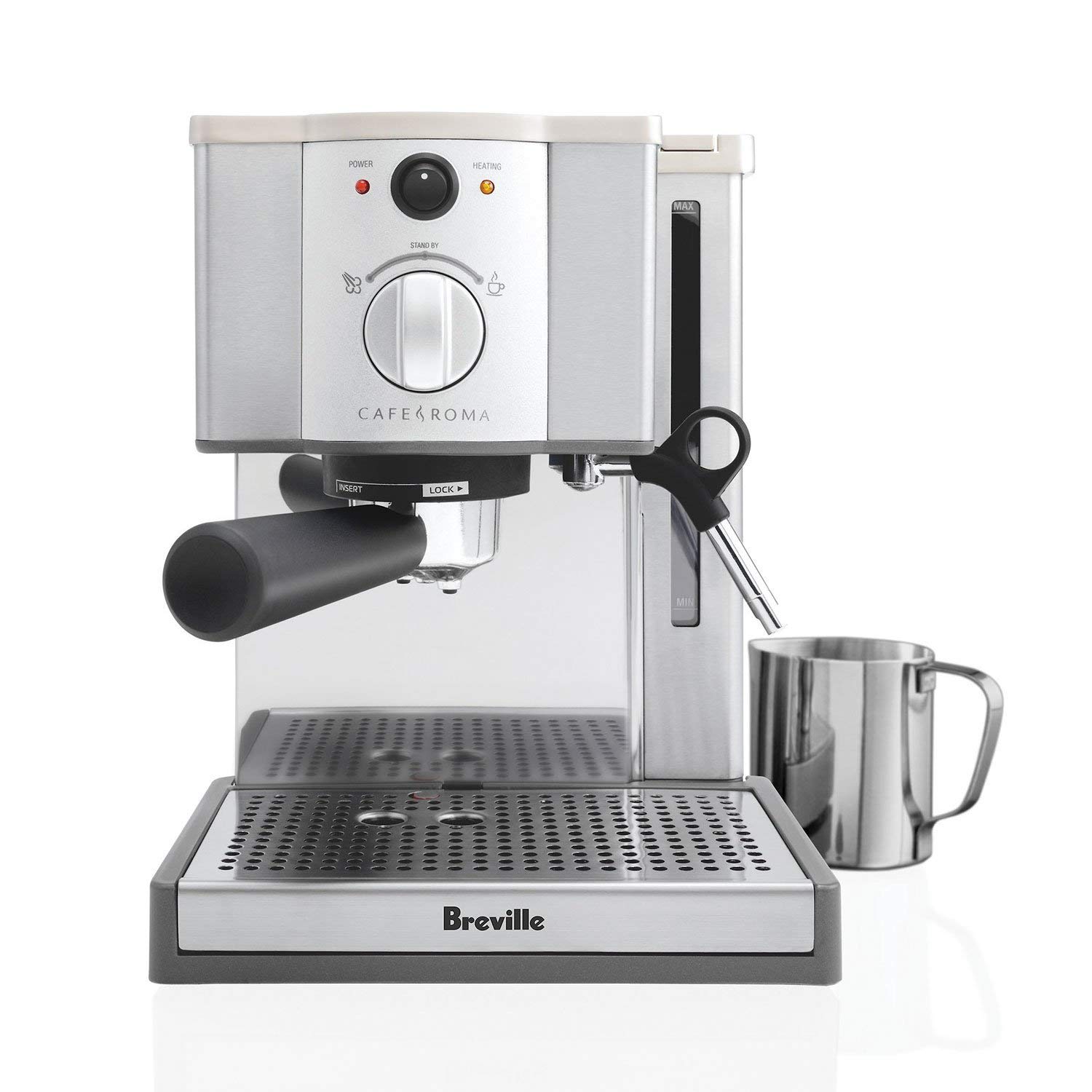 Breville ESP8XL Cafe Roma Stainless Espresso Maker Specifications:
Average Price: $325.00
Product Dimensions: 12 x 12 x 15 inches; 17.8 pounds
Measures: 9 x 9 x 12 inches
Warranty: One year
Construction: Stainless Steel
Features: Removable drip tray, stainless steel espresso cup set, frothing jug, 15-bar Thermoblock pump, external water window, cup-warming plate, froth enhancer, dual-wall filter system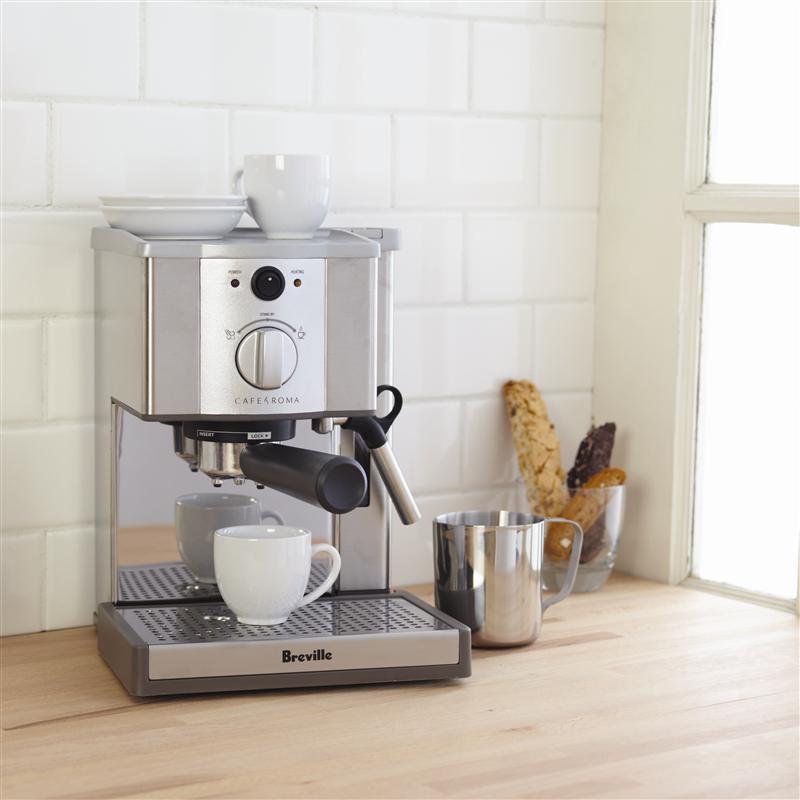 What's So Great About the Breville ESP8XL Cafe Roma Stainless Espresso Maker?
Steel Parts: The Breville Café Roma is certainly not the most expensive machine on the market, but it is made from high quality parts. The housing and the internal parts are made from stainless steel, giving this machine a sturdy and well-constructed appearance. The machine is rather large, but espresso lovers enjoy this feature, as it indicates a quality espresso maker that will stand the test of time. The pump is made in Italy as well, so you can expect that the production is superior compared to lower quality machines that have imported plastic parts.
Crema: Everyone that owns the Breville Café Roma raves about the quality of the crema. As an espresso drinker, you understand that this is a necessary component to a perfect cup of espresso, and this machine doesn't fall short in this area. It continues to deliver the perfect crema with its dual-wall filter system. Most importantly, the crema comes out consistent, as opposed to other machines where you could use the same balance of beans, grind and tamping pressure, yet the finished product comes out different every time.
Maintenance: This machine is easy to maintain, as all the systems are removable and easily cleaned. A 1.3-quart water tank can be removed, and there is a window on the side that lets you know when the water level is low. The stainless steel exterior can be wiped down to remove fingerprints, keeping the exterior shiny and pristine, while even the smaller parts such as the frother can be removed and washed with soap and water. With proper maintenance, the espresso maker will look its best and continue to produce superior results.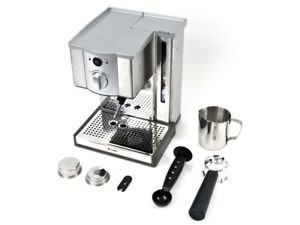 What's Not So Great About the Breville ESP8XL Cafe Roma Stainless Espresso Maker?
Clogged Filters: This machine has filters that are prone to clogging, and when they do become clogged, you'll have your work cut out for you. There are double-wall filters that are responsible for making the perfect crema. While the filters do accomplish this for some time, the filters will eventually end up clogging. Since the holes are so small, you'll need to unclog the holes with a pin and soak the filters in vinegar or running water. One solution is to use the right size grind, as grinds that are too small will clog the filter. However, this can be contradictory, as many people prefer espresso with fine grind.
Plastic Collar: The collar that holds the filter in place is made of plastic, yet most high-end machines have collars made from metal. Since this is the part of the machine that gets the most use, it should be the strongest, and it isn't. The plastic does weaken over time, and once it breaks, it will no longer hold pressure. While this is a concern for many buyers, the machines that come with metal collars are much more expensive than the Café Roma from Breville; some even costing thousands of dollars. This machine is much more economical, so in this price range, you will be comparing machines that have plastic collars as opposed to metal.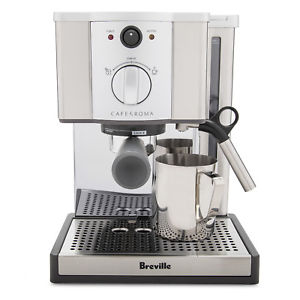 Is the Breville ESP8XL Cafe Roma Stainless Espresso Maker a Great Purchase?
If you're looking for a moderately priced espresso maker that is quality made and produces superior results, the Breville ESP8XL Café Roma Stainless Espresso Maker is the machine you're looking for. With stainless steel housing and parts, you can expect a quality machine that is easy to use and maintain. Most importantly, the Breville Café Roma brews up delicious cups of espresso that have the same consistent results so that you're not left fussing with the machine or wasting coffee in the process. With such features as a cup-warming plate, removable water tank and dual-filter system, you can expect a brilliant espresso machine that will emphasize your love for espresso.